Boehner Wanted a Budget Deal So Much That He Did Not Want One at All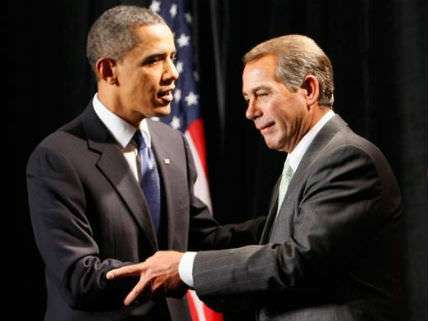 Bob Woodward can't be too pleased with the New York Times story about his new book, The Price of Politics, which details last year's failed negotiations aimed at a "grand bargain" on deficit reduction between Democrats and Republicans. "Last summer's bitter budget negotiations have been hashed over in several lengthy news accounts," sniffs Times congressional reporter Jonathan Weisman, "and Mr. Woodward's is the most exhaustive, although it is not clear how much new information, if any, he has uncovered." In case that does not make you eager to delve into Woodward's 448-page tome, Weisman poses an intriguing puzzle:
President Obama maintains that the speaker [John Boehner] never really wanted to cut a deal…

"I think John wanted to get a deal," Mr. Obama said in an interview with Mr. Woodward.
Whose contradiction is this? Obama's, Woodward's, or Weisman's? Is it worth $17.16 (marked down from $30 at Amazon!) to find out?