Montana Medical Marijuana Provider Gets Probation; His Partner Got Life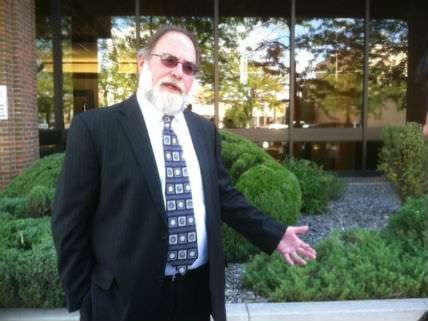 Today a federal judge sentenced Tom Daubert, a Montana medical marijuana activist, to five years of probation rather than the six and a half to eight years in prison sought by prosecutors. Daubert, the subject of the new documentary Code of the West, is co-founder of Montana Cannabis, a chain of dispensaries with a grow operation in Helena that was raided by the feds in March 2011. He pleaded guilty last April to a single charge of conspiracy to maintain drug-involved premises, which was punishable by up to 20 years in prison but did not carry a mandatory minimum sentence.
"I do not believe this case warrants imprisonment," said U.S. District Judge Dana Christensen, citing "unique" factors, including the fact that Daubert had left Montana Cannabis before the raid and had lobbied for stricter regulation of dispensaries. Although Daubert would not have been allowed to discuss the legal status of medical marijuana in Montana during a federal trial, Christensen seems to have taken into account the fact that he openly provided the drug to patients in compliance with state law. The Missoulian notes that Daubert "routinely conducted greenhouse tours for lawmakers and law enforcement officers."
Daubert's former partner, Richard Flor, was punished much more severely for his role in Montana Cannabis, as Lucy Steigerwald noted last week. Although he pleaded guilty to the same charge, Flor, a sickly 68-year-old with a litany of ailments (including diabetes, dementia, osteoarthritis, neuropathy, coronary artery disease, and chronic obstructive asthma), received a five-year prison sentence from U.S. District Judge Charles Lovell last April. Flor died one month into that sentence after suffering two heart attacks while waiting to be taken to a medical facility. At her TalkLeft blog, Denver criminal defense attorney Jeralyn E. Merritt has more on Flor's appalling treatment, including a recommended sentence of nine to 11 years that flouted his plea agreement.