Bill Clinton's Nostalgianomics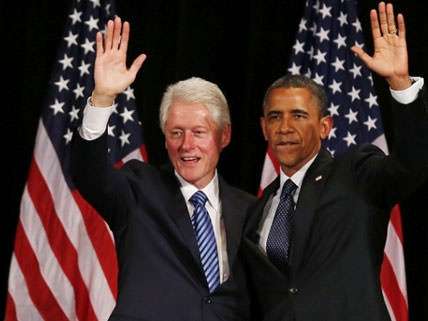 You wanted a nostalgia trip? You got a nostalgia trip. Because that's what Bill Clinton wanted too. His expertly delivered, substantially improvised speech at the Democratic convention played like a 2012 remix of a 90s greatest political hits album: balanced budgets, economic prosperity, job growth, work and welfare.
Clinton played all the characters that made him famous: bleeding-heart bubba, the relatable leader, the clever country-boy, and even the serious — but accessible! — policy wonk. Clinton spent the majority of the speech explaining and adjudicating a slew of economic policy debates. He has always had a keen nose for the political trends of the moment, and here the former POTUS was reborn as fact-checker-in-chief.
That's not to say he got all of his facts right. On Medicare, for example, he argued that ObamaCare's Medicare cuts extend the solvency of Medicare — which, as I noted recently, is only true if you double count the savings, using them to pay for both an extension of Medicare's trust fund and ObamaCare's new insurance subsidies. He went after Mitt Romney's campaign for attacking the Obama administration's assertion of new, legally dubious authority to grant waivers to welfare's work requirements. "The requirement was for more work, not less," he said. Not wrong, exactly, but not the best truth. The requirement was to move 20 percent more people from welfare to work — and an easy way to do that is to increase the program's rolls, thereby increasing the number of people who successfully move on from the program. He bragged about the higher number of jobs created by Democratic presidents, a comparison that, as Ron Bailey noted last night, is less favorable depending on how you perform the count.
All in all, though, the speech was more substantive and policy-focused than any convention speech so far — and that's at either convention. And some of Clinton's attacks were dead on: He hit Romney for budget math that doesn't add up, and it doesn't. He knocked Romney's telling lack of policy specifics, which is a legitimate problem. He called out GOP VP candidate Paul Ryan for attacking Obama's Medicare cuts after proposing the same cuts in his own budget. Like so many modern media personalities, Clinton played multiple roles: the pundit, the explainer, the fact-checker, the arbiter of what is true and false — and he did it well.
But what Clinton's speech gained in policy substance, it lacked in a compelling governing vision. The whole speech was a masterful bit of sleight of hand: He touted his own economic record, attacked the Republicans for their hypocrisies — and then concluded that the correct response is to vote for Obama. Essentially, he tried to transfer his own economic record to the current president.
You could see that most when it came time to drive home the case for Obama. In the final stretch, he had to rely on airy defenses of the status quo: Vote Obama "if you want every American to vote and you think it is wrong to change voting procedures." Vote Obama "if you think the president was right to open the doors of American opportunity to all those young immigrants brought here when they were young so they can serve in the military or go to college." Vote Obama "if you want a future of shared prosperity, where the middle class is growing and poverty is declining, where the American dream is really alive and well again and where the United States maintains its leadership as a force for peace and justice and prosperity in this highly competitive world." Vote Obama, in other words, if you want to live in Bill Clinton's America.