Gary Johnson: Obama Doesn't Care About The War On Drugs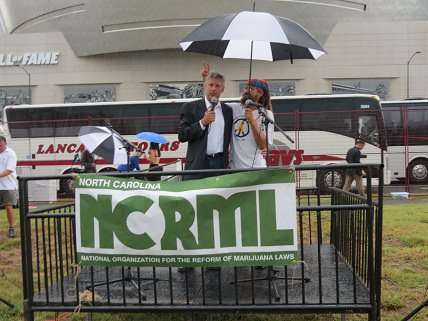 CHARLOTTE – Nobody at the Democratic National Convention is talking about the war on drugs, so the North Carolina NORML affiliate decided to host its own event early this evening in one of the permitted outdoor free speech areas.
Libertarian presidential nominee Gary Johnson, not one to shy away from criticizing American drug policy, was the big draw of the rain-soaked event. Johnson touched on his early experiences with marijuana as well as his efforts to change the prevailing attitudes on drugs while governor of New Mexico. He pointed to marijuana ballot question in Colorado as something that he thinks could be a sea change in how marijuana is viewed in the United States.
"In 1970 I smoked marijuana for the first time and when I smoked it for the first time I discovered that everything the government had said about marijuana was a lie," said Johnson, accompanied on stage by a longhaired man holding an umbrella for him.
Johnson said he deeply believes that the war on drugs is one of the biggest issues facing the country. He calls it a "front burner" issue. In some ways the issue of drug legalization is personal for Johnson as his marijuana usage was brought up as an issue during his initial run for governor.
"They asked me the question 'had I ever smoked marijuana?' Yes, I had smoked it and I had never exhaled when it came to marijuana. There was lot of conjecture. Did I have a drug problem? No. Had I ever been in rehab? No. Were you remorseful for smoking marijuana, was this just a youthful indiscretion? No," he said, drawing cheers from the crowd of around 40 in attendance.
The ballot initiative in Colorado that would legalize possession of an ounce of marijuana for people over the age of 21 is something Johnson is optimistic about. "Colorado will be the first but how will this impact the other states? Well when all the other states get on a plane to Denver on a Friday to chill out that's when the rest of the country will fall in line with rational drug policy," he said.
Johnson did not challenge the drug policy of President Obama or Mitt Romney nor did he mention them by name during his short six minutes speech.
Rachel Wilson, 19, a student the University of North Carolina and a member of the NORML chapter there said she plans to vote for Obama this fall even though his record on the drug war is less than optimal. "You know I think Obama is a great guy and will be reelected and I think his time for change is another four years in office," she said.
In an interview in the pouring rain after his speech Johnson said that the idea Obama will change course on drug policy in a second term is foolish.
"That's baloney. How does he turn his back on cracking down on medical marijuana facilities in his first term when he promised he wasn't gonna do that? And he was elected on all of the promises he was made but that was one of them," he said.
When asked if he thinks Obama, an admitted drug user, cares about the war on drugs, Johnson replied, "Apparently not. I'll tell ya, I have never been guilty of hypocrisy when it comes to this issue," Johnson said.