Move Over, Clint Eastwood: Nicki Minaj Votin' for Mitt Romney (and in Miami, She's Chillin' with a Zombie)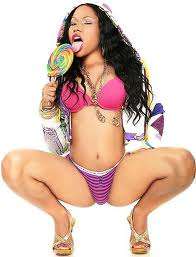 Extremely popular, nip-slip-prone, and foul-mouthed rapper Nicki Minaj is apparently voting for Mitt Romney, if a new release featuring her and Lil Wayne is any indication. (Read all about it here.)
Around the 1.35-minute mark in "Mercy" from Lil Wayne's Dedication 4, Minaj rhymes, "I'm a Republican voting for Mitt Romney/you lazy bitches is fucking up the economy/Out in Miami/I be chillin' with a zombie…" (Listen below.)
Despite having the GOP ticket's music choices be rebuffed by bands ranging from Twisted Sister to Rage Against the Machine to Silversun Pickups, it seems unlikely that Romney is going to invite the "Starships" songstress to (m)any events.
Then again, perhaps it isn't strange at all that Minaj is Republican. Two years ago at The Root, Thomas Chatterton Williams wrote with dismay about "The Inherent Conservatism of Hip Hop":
An adamantly atheist rap star is as inconceivable as an openly gay one, and the fact is, that puts hip-hop comfortably in GOP territory.

In terms of class consciousness, Public Enemy and X-Clan notwithstanding, hip-hop as a cultural movement is undeniably aspirational and never revolutionary: The biggest, baddest hip-hop rebels—from Cam'Ron to Fabolous to Mobb Deep to the late Biggie Smalls—are remarkably bourgeois at heart, with 1950s-era dreams of parking gas-guzzling Cadillacs in front of cookie-cutter tract homes in New Jersey. If anything, hip-hop is the enemy of a radical challenge to the capitalist status quo.
"I can't help the poor if I'm one of them," raps Jay-Z on The Black Album, though Ronald Reagan may as well have been his ghostwriter. In this way, the "God MC" is actually more like a thugged-out Michael Steele, a black man who profits personally by lending the illusion of diversity to a system that ignores and exploits poor people of all colors. Is it really surprising that Steve Forbes would put Jay-Z on the cover of his magazine?
Click to listen to Lil Wayne and Minaj: