It's Been a Great Day for Uplifting News From Europe, Here are Some Highlights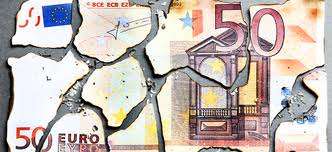 Bulgarian Prime Minister Boyko Borisov and Finance Minister Simeon Djankov made the announcement in an interview with the Wall Street Journal. Djankov said:
Right now, I don't see any benefits of entering the euro zone, only costs
Bulgaria had made the first steps to join the eurozone in 2010, with full membership scheduled for 2013.
Polish Foreign Minister Radoslaw Sikorski has said that Poland has shelved plans to join the single currency, saying that the eurozone must become more stable:
You can hardly blame us for not wanting to enter while the eurozone is in a grave crisis
In July the Spanish withdrew $94 billion from their banks, and the cash flow out of the country has continued. Recent government interventions and requests for bailout funds from constituent provinces have all evidently done little to reassure many Spaniards.
The Troika (European Central Bank, International Monetary Fund, European Commission) expects the Greek Labor Ministry to implement reforms, one of which would require that the Greeks adopt a six-day work week. The proposed reforms also include changes to regulatory practices and hiring and firing polices. Read the leaked email here.
Greece must adhere to recommended reforms in order to be eligible for future bailouts. The Greek Prime Minister has already asked for more time to make the necessary changes.
The EU's credit rating outlook is now "negative". Moody's made the announcement amid increased worry about possible defaults of countries like Greece which would strain the rest of the bloc's economic performance. France, Germany, the UK, and the Netherlands were already on a negative outlook before today's announcement.
The country usually praised for its good economic performance is facing a recession due to a drop in exports to the rest of Europe. The Swiss National Bank has been mostly successful in containing Switzerland from the rest of Europe's problems, but there is not much Swiss institutions can do about customers of Swiss goods seeing a decline in disposable income.
David Cameron has reshuffled his Cabinet. Jeremy Hunt, who used to be Secretary of State for Culture, Olympics, Media and Sport, is now Secretary of Health. His views on homeopathy and abortion have already landed him in trouble less than 24 hours into the job.