Barack Obama Backed By One Percent
The campaign celebrates its 3 millionth donor
Last election cycle, Barack Obama declined public financing and campaign spending limits on his way to a record-breaking cash haul. Things aren't looking as bright for the president this time around. He's made the prospect of being outraised and outspent a hallmark of his fundraising pitch. The Obama campaign's astonishingly high burn rate notwithstanding, it continues to bank on the image of a grassroots campaign. So last night it touted its three millionth donor: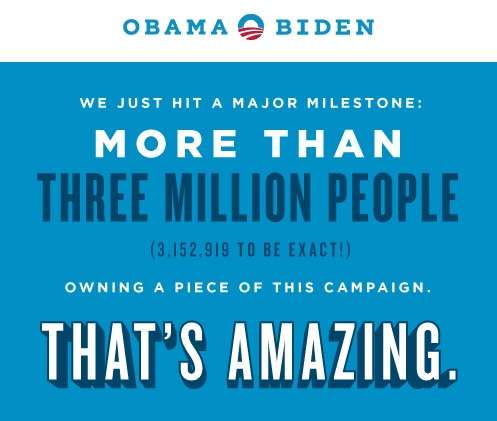 That's about one percent of the population, that portion demonized by an Occupy Wall Street movement on which Democrats tried to capitalize. Meanwhile, some Obama supporters are complaining of a remote president. From the Seattle Post-Intelligencer:
Obama is from the people. Obama is for the people, at least in that his policies strive to promote the middle class. As President, however, Obama is definitely not OF the people: In the world's most public job, he has proven surprisingly private and aloof, governing with an insular inner circle.
According to Open Secrets, Obama is sitting on $87.7 million in cash on hand, having raised $348 million and spent $263 million, along with $2 million in debt. Romney has $30 million in cash on hand and no debt. This advantage did not stop Obama from chiding donors to his opponents for not giving to college scholarships instead.
Obama donors, meanwhile, include the independent reviewer of the White House's energy loans, who gave more than $50,000 after finishing his work. Though Romney, gets more large donations, he's also attracting thousands of donors from liberal neighborhoods in places like San Francisco and New York City.
Months of fundraising, spending and campaigning have moved the race little. The most recent RealClearPolitics average of polls has Obama and Romney virtually tied at 46 percent, with a Romney bounce seeming to tighten the race on the way into Charlotte.