Will Rule Change Fight Hurt the Republicans?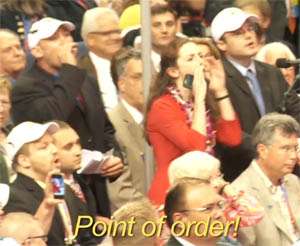 If you have been following Reason.com's coverage of the Republican National Convention this week, you know that Tampa was the scene of a pretty ugly fight over the party's nominating process.
In a departure from a pattern going back to 2008, the struggle this time was not just between Ron Paul supporters and the party establishment. In Tampa, the party manhandled a wide range of grassroots activists, including social conservatives and harder-right members.
For more about the struggle, click here, here, here, here and here. Although television coverage of the convention largely seems to have followed the GOP's preferred narrative, the story of the delegate fight did get picked up in mainstream newspapers.
At FreedomWorks, Michael Duncan gives more detail on how the party leadership kiboshed dissent:
To placate the grassroots, the establishment pushed a "compromise" on Rule 15, which conservative commentator Erick Erickson called a "red herring", and simply shifted even more unsettling changes into Rule 12. The Romney camp then launched a misdirection campaign to placate and confuse grassroots activists.

The Romney camp even went as far as preemptively removing Rules Committee members and replacing them with Romney-appointed delegates, a move one can only imagine was done to secure passage of the rule changes.

A grassroots insurrection against the changes led by Morton Blackwell, FreedomWorks, Rush Limbaugh, Michelle Malkin, Ron Paul supporters and countless others, encouraged full Minority Reports on the Rules when the RNC convened to adopt the rules.

This is where the establishment got even more brazen. When Speaker John Boehner asked for the "ayes" and "noes" on the adoption of the rules, the "noes" were at the very least just as loud as the "ayes", and yet in the opinion of Speaker Boehner the "ayes" had it. Gavel.
Judge for yourself whether the ayes really had it:
Grassroots activists have objected that the rule changes are tyrannical and likely to corrupt the process. (I am agnostic on internal party governance, and I don't know that it's necessarily wrong to require delegates to vote in a way that reflects how voters actually cast their ballots.) But the decision to centralize decision-making in a party establishment headed (for now) by Mitt Romney could have more important consequences in November, by further cooling the already lukewarm popular support Romney has.
For many reasons, Romney is viewed with great suspicion by a broad cross-section of the GOP base, including fiscal conservatives, social conservatives, and above all the mass of Americans who have risen up in revulsion at Obamacare's individual mandate (which Romney pioneered as governor of Massachusetts).
Romney's popular vote tallies throughout the primary campaign do not suggest that he has substantially improved on his ability to bring voters out to the polls since 2008 (when he was defeated in the primary by John McCain, who went on to lose to Barack Obama). This is one of the reasons I believe Obama will ultimately win in November, despite a first term that has been stunning in its failures and even more disastrous in its successes.
Romney and the party leadership did not alienate grassroots activists unintentionally. In many cases they appear to have gone out of their way to antagonize dissenters. This may have been an easy decision to make when the grassroots consisted only of Paul supporters (whom many Republicans would like to see leave the party anyway). It's another thing when you piss off the lineup of pundits and conservative stalwarts Duncan names above. It's also unnecessary: Despite the claims of many Paul diehards, there was no scenario under which Romney was not going to get the nomination.
The GOP is fabled for its party discipline, embodied in Ronald Reagan's Eleventh Commandment. But Republicans can still weaken their candidate without speaking ill of him. They can decide not to work for him, not to show any enthusiasm for him among their undecided friends and family members, and not to bother voting at all. Obama, the former community organizer, showed in 2008 that he had the ability to motivate loyalists to get out to the polls, and its unlikely that skill (which is even more important in an election that is expected to get a mediocre turnout) has deserted him completely.
Mitt Romney, on the other hand, just doesn't excite people. You can win an election without exciting people, especially against an incumbent whose four-year tenure has been so miserable for so many. But it's hard to see how producing a new cohort of disgruntled Republicans will help Romney get past his natural limitations as a politican.