Spain Creates Its Own "Bad Bank" in a Bid to Avoid Bailout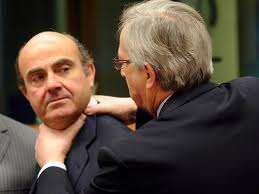 The Spanish government has released plans for a bank where toxic property assets can be dumped, the so called "banco malo". Spain's financial crisis was caused largely by overinvestment in the housing market, and it is hoped that with a shared pit to dump their bad assets in Spanish banks will have a better chance at recovery. It is hoped that this deliberately created "bad bank" will not be a net loss to Spain, and the Spanish government is asking investors to own a majority stake in the planned bank.
It will be months before the actual bank is up and running (Reuters is reporting it could be late November or early December). Well before then Spain will come under increased pressure to accept a sovereign bailout, Greece could see its situation worsen, and the Germans could demand further reforms and austerity conditions from countries in need of assistance.
Representatives of the troika (European Central Bank, European Commission, and the International Monetary Fund) are expected to release their findings on reforms Greek officials were told they would have to implement in order to receive additional bailout funds soon. It is likely that the Greeks have failed to implement the necessary reforms or cut enough spending.
Portugal recently received a visit from troika officials, something that shouldn't fill anyone with optimism. How the markets react when Portugal and Greece deteriorate further will weigh heavily on Spain.
On September 12 the German Federal Constitutional Court will rule on the constitutionality of the European Stability Mechanism, the main bailout fund for the eurozone. Although most think that the court will rule in favor of the constitutionality of the bailout fund there will almost certainly be austerity conditions attached to any more bailouts that Germany takes part in.
Even if a Spanish "banco malo" were to work the unfortunate reality for the Spanish is that their economy is not in a bubble. September is going to be a tumultuous month for the eurozone, and Spain will be affected by troika's findings on Greece and the ruling of the German Federal Constitutional Court. It is not only European policy that will affect Spain and the viability of their new bank. In a speech today Fed Chairman Ben Bernanke said, "The Federal Reserve will provide additional policy accommodation as needed." Whatever Bernanke was hinting at it will almost certainly ripple to Europe. How bad things will be in Europe when Bernanke decides to act will depend largely on how many reforms Greece has managed to implement and the findings of the German Federal Constitutional Court.