Major Party Political Conventions, Brought to You By Taxpayer Funding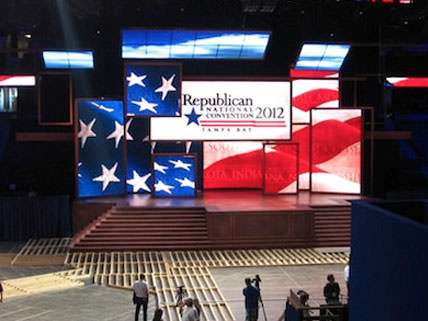 They party. You pay. Federal taxpayers help finance the major party conventions, and in 2012, the tab could exceed $100 million. Via The Maryland Reporter:
Federal taxpayers could be on the hook for more than $136 million to cover the cost of the major political parties' presidential nominating conventions.

That's the estimated total taxpayer tab of this week's Republican Party National Convention in Florida, and next week's Democratic Party National Convention in North Carolina.

And campaign finance trackers say the millions more flowing into cocktail soirees, celebrity mixers and cigar tent sideshows paid for by unions, corporations and other special interests could eventually come with a higher price tag for taxpayers.

…"The general public does not know that taxpayer dollars are used to underwrite these conventions. I think it's wrong," said Jay Heck, executive director of Common Cause Wisconsin, part of the national nonpartisan public-interest organization. The group traditionally supports left-leaning issues.

Congress appropriated $100 million — $50 million for each convention — to cover the cost of security, which, so far in Tampa, appears to be much tighter than the 2008 GOP convention in Minneapolis-St. Paul.

The two major parties will each receive public grants of $18,248,300 for their conventions, funded through the Presidential Election Campaign Checkoff.
Check out all of Reason's RNC 2012 convention coverage here.