Obama and Merkel Want Greece in the Eurozone Despite the Greek Government's Failure to Meet Austerity Conditions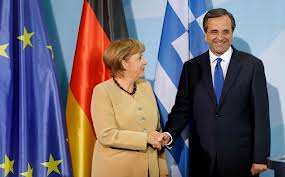 Today Greek Prime Minister Antonis Samaras and German Chancellor Angela Merkel met for talks on the euro-crisis. Merkel reiterated her desire to have Greece remain in the euro, while Samaras repeated his pleas for more time to meet the austerity conditions attached to future bailouts. The markets have not reacted well, with European stocks and the euro falling.
Although Merkel might want Greece to stay in the euro, the troika audit might well make Greece's membership of the eurozone a political as well aneconomic impossibility. There is considerable domestic political pressure on Merkel to be harsher on the Greeks, who have been unable to make the promised privatizations and cuts. Indeed, patience is wearing so thin that it is reported that German Finance Ministry might approach the Greeks and ask them to consider a temporary break from eurozone membership.
An unnamed official explained:
It would be better received politically within Germany, the Netherlands, Finland and other countries like Slovakia and Estonia if the new loan were sold as the final one and tied to a Greek exit from the Eurozone, which would be regarded as punishment.
While the German Finance Ministry might be planning on nudging Greece out of the eurozone on our own side of the Atlantic Obama is keen on Greece staying in, at least until Election Day. If the troika audit reveals that the Greeks have not kept to the austerity conditions attached to future bailouts, then German and/or Finnish political activism will almost certainly ensure a Greek default. The effects of a Greek default would hit the American economy hard. Europe is America's largest trade partner, with Europe reeling from a Greek default there would be no way for the US to isolate itself from the effects. A Greek default is by no means guarantees a Romney victory, but it would make the election more competitive.
No one could have seriously thought that the Greek government would be able to make the necessary cuts to their budget or make the required privatizations. Greek government debt as a percentage of GDP has not dropped lower than 101 percent in seven years. The political establishment in Greece is immune to fiscal sanity and is institutionally incapable of doing what must be done. It is looking so bad that German officials are thinking of paying the Greeks to leave the eurozone, something the Greeks should consider a blessing in disguise.