N.Y. Times Tells More Tall Tales of Recovery
Yesterday we analyzed a reporter's economic hallucination published on page A1 of The New York Times. Today the Grey Lady again gives its front page over to some fiscal flimflammery, but reporters Shaila Dewan and Nelson D. Schwartz are largely blameless. The headline promises a story on the real estate recovery, but that turns out to be the journalistic equivalent of a Rickroll.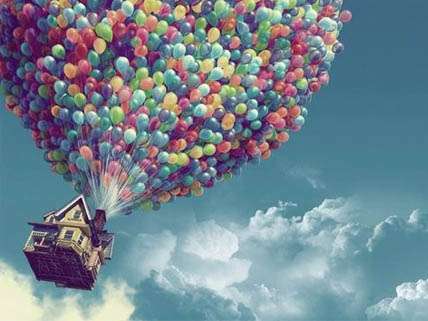 I presume Dewan and Schwartz were assigned to write about the "nascent" real estate recovery. (The same recovery that has been a-borning for a good four years now, yet somehow never seems to leave the womb). The two reporters duly note that there has been a recent month-to-month pickup in the number of completed real estate sales.
They also cite recovery news from a report by the scrupulously neutral and disinterested National Association of Realtors®. And they quote the S. & P. executive responsible for the Case-Shiller Home Price Index, who avers, "The broad opinion is that housing is definitely improving and on the upswing." (This news should gladden the inventor of the Case-Shiller Index, who says house prices may not recovery for another generation.)
But nearly half the article actually describes how market forces are working to depress prices and slow sales.
The headline? "Signs of Revival, Slight but Sure, for Home Sales."
Here are some of the sure signs:
Analysts are hailing the beginnings of a recovery in the nation's housing market. But to beleaguered homeowners, it will not feel like much of one for many months to come…

Yet the nascent recovery is still a convalescent one, with the pace of activity uneven and far below the levels reached before the bubble burst. Home prices remain under pressure in many markets…

Wednesday's report from the National Association of Realtors showed that average sales prices actually dipped slightly from June to July. This seeming contradiction — increasing demand but anemic growth in home values — could represent a new normal in the housing market, experts said…

Real estate agents across the country cited the weak job market, stagnant wages and tight lending standards as continuing restraints on prices, despite pent-up demand and mortgage rates near record lows….

"Inventory is lower and construction is incredibly depressed," [a Bank of America economist] said…

"I think people are really scared right now; they're not spending the money," [a retired farmer] said…

While new buyers might take comfort in the fact that deep declines in home values seem to have passed, more than 11 million current homeowners owe more on their mortgages than their homes are worth…

More typical is Chicago, which hit a low in March 2012…

Concerns that a flood of distressed properties will soon hit the market were also receding…

Short sales, the practice of allowing homeowners to sell their property for less than they owe before the home reaches the auction block, are on the rise. Some banks have recently introduced "deed for lease" initiatives to convert delinquent owners into renters instead of evicting them….

[I] nvestors who had been fueling the market with cash purchases were starting to get cold feet, fearing values would not appreciate further as long as incomes lag and jobs are scarce…

In some areas, real estate brokers were skeptical that any improvement would be sustained…

Case-Shiller is still showing a slight decline nationally in average prices over the past year, but analysts will be closely watching data due out next week for signs of a turnaround…

"You're going to have a catfish market," [a Las Vegas real estate agent] said. "You know, catfish stay on the bottom and they occasionally jump up to the surface."
The reader comments are particularly choice. Here's a good one from Edmund Dantes of Stratford, Connecticut:
The headline does not match the article. The housing sector is doing poorly, and if interest rates begin to return to normal it will do even worse.

When Bush was President, the NYTimes spun every economic hiccup as a catastrophe, in order to talk down the economy and aid the Democrats. Somehow, with Obama, even bad news can be relabeled as good news. Evidently the agenda setters hope that no one actually reads beyond the headline to the underlying data.
Leaving aside the Times' fondness for the current president, why is a reinflation of real estate that in most markets is still historically overpriced considered a "recovery" at all. The real estate recovery is what has been happening since 2007. Prices need to keep dropping, and fortunately, they will.