Attorney for Fullerton Cop Manuel Ramos: Kelly Thomas Was Responsible for His Own Death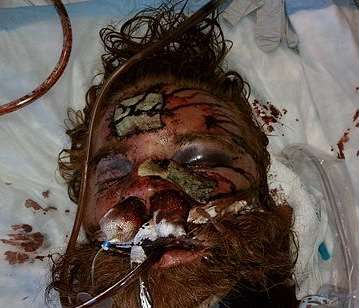 The attorney for former Fullerton Police Department officer Manuel Ramos attempted to have his client's charges dismissed yesterday by arguing that Kelly Thomas, the homeless man Ramos helped beat to death, was asking for it:
Seeking to have charges dismissed against a Fullerton police officer in the death of a mentally ill homeless man, his attorney contends in a motion filed Tuesday that Kelly Thomas could "have avoided a physical altercation" by simply complying with the commands of the officer who wanted to take him into custody.

Defense attorney John Barnett in his filing just days before his client Manuel Ramos is due back in court argues Ramos' action did not cause Thomas' death.

When a "recalcitrant" Thomas did not comply, Ramos was entitled to use force and the threat of force to complete his arrest, Barnett contended in his 80-page motion.

"Rather than use actual force, Officer Ramos employed a lawful, conditional threat, to use force," he wrote. "The death of Kelly Thomas was not the natural and probable consequence of that lawful threat."

"What happened (during the encounter) did not and could not constitute a crime," Barnett said.
That "Lawful, conditional threat"?
[District Attorney] Rackauckas said Ramos triggered the sequence of events that led to the fatal fight when he snapped on latex gloves, turned to a sitting Thomas and threatened, "You see these fists? … They are getting ready to f— you up."
The Orange County Register has more on Barnett's attempt to have the charges against Ramos dismissed. His whitewash is almost as infuriating as that of Jay Cicinelli's stepfather, a retired cop who claims that what happened to Thomas "wasn't a beating; it was a struggle."
The video from that night contradicts both men's claims.
Reason.tv on Cops Vs. Cameras: The Killing of Kelly Thomas & The Power of New Media: