The Backlash Against Pussy Riot As Poster-Women for Sexy Free Speech Has Some Good Points, But Not Many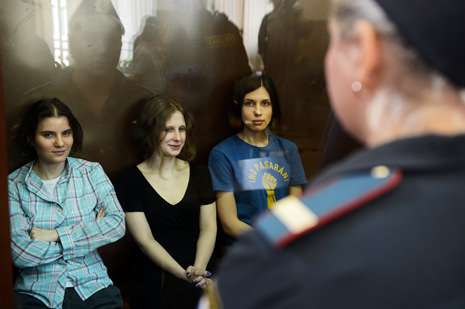 Before I point out that The Atlantic has a good point, let me first say that memory and outrage and whatever the hell catches humans' attention isn't fair; speaking from an American perspective, the Titanic is more famous than the Lusitania, the Holocaust is more famous than the Ukrainian famine or even the Great Leap Forward, and Thomas Kinkade sold a whole lot more paintings than did Vincent Van Gogh. It's frustrating when your cause or atrocity or gift is the one forgotten in favor of another, sexier, more inexplicably interesting one. Basically, mass taste, even in outrages, is mixed at its very best.
In "The Kony-ification of Pussy Riot" Joshua Foust makes some good points. The three members of the feminist punk collective Pussy Riot who were sentenced on August 17 to two years in Russian prison for their February 21 "Punk Prayer" protest are victims, though they knew what they were doing and risking. Any time international attention is paid to victims of oppressive governments, it's probably a good thing. Still, Foust is reminded of the much-criticized Invisible Children Kony 2012 campaign from earlier this year, and its awkwardly Western optimism and desire for nosey intervention and world-policing.
Also, notes Foust, the obsession with the artistic and punk side of these women is excessive, to expect that that will change things in Russia. And it ignores other dissidents in Russia who didn't have their names printed on Madonna's back. The women's two year punishment is insane, and it's worse still when they have children at home, but if anything happens to them during that time, the world will definitely notice. Other protesters may not be so lucky.
Another Atlantic writer has previously noticed that the language used in Western media to describe the women has been pretty nauseatingly sexist, which the self-described feminist band may not appreciate. And Gawker today is riffing on some Vice staffers who got the Russian word for "hooligan" tattooed in "solidarity" on their flesh for the women. Writes Hamilton Nolan:
They got some tattoos—Russian tattoos. READ IT AND WEEP, PUTIN.

[…]

The tattoos about Equatorial Guinea, Eritrea, North Korea, Saudi Arabia, Somalia, Sudan, Syria, Turkmenistan, Uzbekistan, Tibet, Western Sahara, Belarus, Burma, Chad, China, Cuba, Laos, Libya, and South Ossetia are going to take up a lot of space, but nobody said freedom fighting would be easy.
Yes, it's a bit trendy, but maybe it's sincere (an emotion I realise is not the forte of either Gawker or Vice) support for women who have an unpleasant two years ahead of them. Writing is perhaps more useful than tattooing, but gestures when a story means something to you are not necessary to mock, even if they are not helping as much as a comando raid to free the women might. The woman from the DC solidarity with Pussy Riot rally said she hoped that the band would see pictures of their supporters in bright colors and know that people were thinking of them. It's a good thought; it may be a little naive, but that's not the worst thing in the world.
Every Christmas Eve I toast the World War I truce, and war hasn't yet stopped. On occasion I wear a shirt that says "Raoul Wallenberg is my favorite superhero" and his true fate in the Soviet gulags has yet to be confirmed. So what? These are the stories that speak to me, though I have no logical reason to care. Maybe people who care about Pussy Riot are projecting, maybe they're being trendy, but maybe not. Why look the gift horse of solidarity and a hope for freedom in the mouth? And yes, Counterpunch, consistency in noticing atrocities is good. I also wish that the U.S. media paid more attention as a whole to some of their government's nastiness. That has absolutely nothing to do with whether or not Putin is awful (he is) and whether or not these women should go free (they should).
At The New York Times, Russian analyst Vadim Nikitin points out that the women of Pussy Riot are not poster children for Western-style democracy, nor were dissidents from the Soviet era necessarily:
How many fans of Pussy Riot's zany "punk prayer" in the Cathedral of Christ the Savior and Nadezhda Tolokonnikova's erudite and moving closing statement were equally thrilled by her participation, naked and heavily pregnant, in a public orgy at a Moscow museum in 2008? That performance, by the radical art group Voina (Russian for "war"), was meant to illustrate how Russians were abused by their government. Voina had previously set fire to a police car and drew obscene images on a St. Petersburg drawbridge.
Stunts like that would get you arrested just about anywhere, not just in authoritarian Russia. But Pussy Riot and its comrades at Voina come as a full package: You can't have the fun, pro-democracy, anti-Putin feminism without the incendiary anarchism, extreme sexual provocations, deliberate obscenity and hard-left politics.
Except for the condescending use of "zany" to describe an edgy, anti-state stunt, this is fair to bring up. A very uncomfortable Lew Rockwell blog post did the same thing, and managed to sound less opposed to jailing the women for two years than most mainstream media. And it's true, the women are more Russian, more bizarre, and less tidy poster children than most outlets have noticed. The truth is usually more nuanced and interesting than anyone's pet cause suggests. Still, Nikitin is incorrect when he writes that we need to accept all of Pussy Riot's wilder elements in order to be outraged on their behalf:
Unless you are comfortable with all that (and I strongly suspect 99 percent of Pussy Riot's fans in the mainstream media are not), then standing behind Pussy Riot only now, when it is obviously blameless and the government clearly guilty, is pure opportunism. And just like in the bad old days, such knee-jerk yet selective support for Russian dissidents — without fully engaging with their ideas — is not only hypocritical but also does a great disservice to their cause.

Some outlets have portrayed the case as a quest for freedom of expression and other ground rules of liberal democracy. Yet the very phrase "freedom of expression," with its connotations of genteel protest as a civic way to blow off some steam while life goes on, is alien to Russian radical thought. The members of Pussy Riot are not liberals looking for self-expression. They are self-confessed descendants of the surrealists and the Russian futurists, determined to radically, even violently, change society.
I don't have a vast understanding of this sort of art, or of Russian society, but to completely disavow the freedom of expression angle is wrong when the women themselves have talked that angle up to Vice and during their own closing statements at trial.
Writes Nikitin:
Pussy Riot's fans in the West need to understand that their heroes' dissent will not stop at Putin; neither will it stop if and when Russia becomes a "normal" liberal democracy. Because what Pussy Riot wants is something that is equally terrifying, provocative and threatening to the established order in both Russia and the West (and has been from time immemorial): freedom from patriarchy, capitalism, religion, conventional morality, inequality and the entire corporate state system. We should only support these brave women if we, too, are brave enough to go all the way.
Wrong. Fans of free speech, as quaint as that term may be to Nikitin, should support these women no matter how radical, offensive, or alarming their views come off as. And the women, it's safe to say, among their other beliefs, also are for free expression, or opposed to the level of oppression that is coming from Putin's Russia.
Come the day when Russia is a nice, healthy democracy and Pussy Riot are at the gates of America, trying to overthrow our system and institute some sort of Democratic-Socialistic-Surrealist-Matriarchy, we can talk about disagreements. For the moment, there's nothing else for advocates of the individual to do but support these women and hope they get home sooner than two years from now.
Reason TV on the DC solidarity rally for Pussy Riot: