Meet This Year's "Most Heroic Vendor" at New York's Vendy Awards!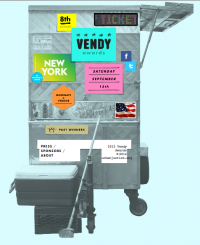 The annual Vendy Awards are mostly a celebration of delicious à la cart(e) fare. But for the second year in a row, the Governors Island ceremony will get a little bit political with the "Most Heroic Vendor" award. This year, it's going to a halal food stand on 86th Street and 5th Avenue in Brooklyn. Its proprietor, Sammy Kassem, has been fighting local restaurants for the right to sell kebabs and falafel. They accuse him of dirtying Bay Ridge streets. He says they don't the competition, or his religion.
The New York Times' City Room blog reports:
The [Save Our Streets Project] turf war between the Bay Ridge restaurant owners and the two street vendors has been nasty at times: the owners have occupied Mr. Kassem's corner with tables and nailed-down park benches, according to a spokeswoman for the Street Vendor Project at the Urban Justice Center, which sponsors the Vendys, while Mr. Kassem's lawyer has accused the restaurants of discriminating against the vendors because they are Middle Eastern.

In response to the campaign, Mr. Kassem filed a complaint in May with the police against one of the leaders of the campaign, alleging that he was being harassed.
Lots more on vendors, food carts, food trucks, and other mobile eateries taking flack from local restaurants.