Independents Driving Pro-Legalization Sentiment in Colorado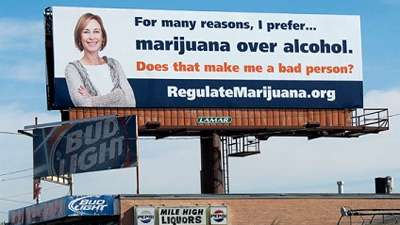 Speaking of the positive influence of political independents, a Public Policy Polling survey of Coloradans released 10 days ago shows that the pot-legalizing Amendment 64 is (unusually for marijuana initiatives) gaining support there, and that the positive trend line is due "almost entirely" to the politically non-affiliated. Excerpt:
When PPP polled the state in mid-June, support for the so-called Amendment 64 narrowly outpaced opposition, 46-42. In PPP's first poll of likely voters in this fall's election, almost two months later, support has grown to 47-38. This movement is entirely because of independents, who were already in favor of the amendment by a 49-40 margin; they now support it by 30 points, 58-28. Democrats are still slightly more in favor (59-22) than Republicans opposed (26-61).
Whole report here. If Colorado (or Washington, or Oregon) votes to legalize marijuana this November, one of our longest national nightmares may finally be seeing the beginning of the end.