Usain Bolt Just Says No to UK's Taxes on Non-Resident Athletes
Her Majesty just wants her cut of the fruits of other people's labor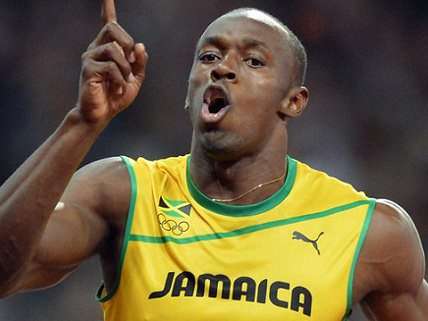 Athletes competing in the United Kingdom have their earnings on endorsement deals taxed by Her Majesty's Revenue & Customs, the British tax collector. How did the London Games manage to attract some of the world's best athletes anyway? With an exemption on that tax, of course. Thus Usain Bolt, who hadn't competed in England for three years, appeared at the Olympics but says he's not coming back until the tax laws are loosened. And he's not the only one. Via The Telegraph:
In 2010 Bolt pulled out of the Aviva London Grand Prix because of his stance on UK tax, instead deciding to compete in Paris - for which he was paid $250,000.

His agent, Ricky Simms, said at the time that British tax law "has kept a lot of the big stars in other sports away from Britain".

Tennis star Rafa Nadal pulled out of this year's Aegon Championship at Queen's Club due to the UK's tax demands. He opted to compete in the Gerry Weber Open at Halle in Germany, where he received a reported £750,000.

"The truth is, in the UK you have a big regime for tax, it's not about the money for playing," Nadal said last year. "They [HMRC] take from the sponsors, from Babolat, from Nike and from my watches. This is very difficult. I am playing in the UK and losing money. I did a lot more for the last four years, but it is more and more difficult to play in the UK."
The British tax on non-resident athletes competing there has brought in about $100 million a year, with about $12 million of that coming from the endorsement tax that kept Nadal from preparing for Wimbledon in Britain itself and caused Bolt to re-iterate his boycott of competing in the country.