Will Strict Medical Marijuana Rules Protect New Jersey From Federal Interference?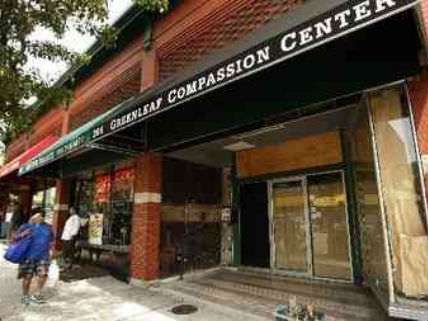 Yesterday New Jersey's Department of Health started registering patients who will be allowed to use marijuana as a medicine. As Nick Vadala notes on Philadelphia magazine's website, "Jersey has one of the country's strictest medical marijuana programs." It is open only to people with specified "debilitating medical conditions," does not permit home cultivation, caps THC levels at 10 percent, and confines distribution to six state-approved dispensaries. Those dispensaries—the first of which, Greenleaf Compassion Center in Montclair, plans to open "shortly after Labor Day"—are subject to numerous regulations:
"This is unlike any other business we've been involved with—the oversight and regulations are unbelievable. Guiding through those rules is difficult, but they keep everyone honest," [CEO Joe Stevens] says. As a former funeral director and X-ray technician, the man knows something about the value of meticulous, heavily enforced medical industry rules….

Legitimate growers and salesmen are hard to come by. Couple that with the required background checks, fingerprinting and drug tests (yes, drug tests) for dispensary employment, and you can see how applications from pie-in-the-sky stoners might muddy the interview pool slightly. Applicants with "black market" experience, says Stevens, are a definite no-no as well….

It's still somewhat difficult, even with the right staff, to sell a bud named something like Alaskan Thunder Fuck as a remedy to chemo-induced nausea and retain a modicum of medical legitimacy. Going the eponymous route, it would seem, flies a little lower under the countercultural radar.

"We're trying to stay away from genetic names because of the stigma attached to marijuana. We couldn't be taken seriously otherwise," says Stevens. Instead, GCC calls its three authorized cannabis strains "Greenleaf 1" and so on up the line.
Will this buttoned-down, anti-California approach protect New Jersey's dispensaries from federal harassment? Gov. Chris Christie, a former U.S. attorney who delayed implementing New Jersey's 2010 medical marijuana law because of concerns about the conflict with federal law, seems to think so. But state regulation has not stopped Colorado's U.S. attorney from threatening licensed dispensaries, and Vadala notes an aspect of New Jersey's program that could put state employees in legal jeopardy:
Other states test crops through independent commercial labs, thereby allowing for different percentage results based on marketing. Jersey, however, requires that medical cannabis be tested for THC and other cannabinoids by the Department of Health and Senior Services.
In other words, state regulators will not merely certify that suppliers have met the conditions necessary to avoid state prosecution. They will be handling marijuana themselves—not in the course of enforcing the ban on marijuana but in the course of facilitating its distribution. By contrast, the dispensary bill that Washington Gov. Christine Gregoire vetoed last year "was specifically amended…to remove any requirements that [state] employees come in contact with marijuana," according to Alison Holcomb, drug policy director for the ACLU of Washington. "All of the testing and handling and inspection was to be done by independent, private, third parties." That change was aimed at allaying concerns that the feds might prosecute state employees for executing the law. The scenario may seem unlikely, but if the DEA starts busting New Jersey's pot testers, it would set up an interesting confrontation between a conservative Republican who criticizes the war on drugs and a liberal Democrat who promised tolerance but delivered a crackdown.