Europe Struggles to Escape Delusion and Propose Solutions to the Euro-Crisis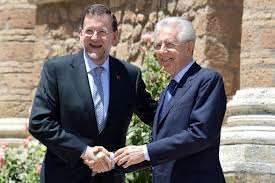 The International Monetary Fund has warned of the need for a drastic "policy game changer" in the eurozone in order to address the spreading crisis. After consultations with numerous countries the IMF predicted that without further action the eurozone could see a five percent drop in output, while the developing world would see an increase worth billions of dollars in the need for future financial assistance. The announcement comes on the same day that the markets fell and then rose again after the European Central Bank's plans were announced by Mario Draghi in an ambiguous statement. While many of the specifics of Draghi's plans have yet to be clarified both Spanish Prime Minister Mariano Rajoy and Italian Prime Minister Mario Monti praised the ECB's plan to support debt.
Rajoy announced today after a meeting with his cabinet that Spain was open to receiving financial aid, something that the Spanish government had been denying would even be necessary a matter of weeks ago. It is the closest that Rajoy has come to accepting that a bailout might be necessary. This comes months after Rajoy and government ministers have been dismissing the possibility of a bailout.
The Spanish government has submitted budget plans to the European Commission that claims to cut enough to make Spain eligible to assistance outlined in the European Stability Mechanism.
Up until today Rajoy was only continuing the tradition of denying that bailouts might be necessary or sought. Mario Monti denied that his own country might be in need of a bailout yesterday as he continued on his European tour.
Outside of the eurozone the Bank of England looks likely to continue with its program of quantitative easing in November. Pressure is increasing on the Bank of England and Prime Minister David Cameron's government to look busy given new polling data and the recent growth figures that show that the UK has been in economic contraction for three consecutive quarters.
On our own side of the Atlantic the Fed has not ruled out more fiscal activism. In a press release released Wednesday the Board of Governors of the Federal Reserve System said:
The Committee will closely monitor incoming information on economic and financial developments and will provide additional accommodation as needed to promote a stronger economic recovery and sustained improvement in labor market conditions in a context of price stability.
Not quite sure what is being hinted at with "additional accommodation", but it doesn't sound at all reassuring.