Anonymous Source Indicates that Spanish Officials Discussed the Possibility of a Bailout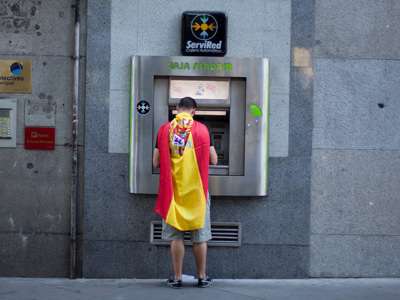 The Spanish Economy Minister, Luis de Guindos, discussed the possibility of an EU/IMF sovereign bailout with his German counterpart Wolfgang Schaeuble, according to an unnamed source. After the bailout package for Spanish banks failed to reassure investors the possibility of a bailout similar to the ones given to Portugal, Greece, and Ireland became increasingly likely and more widely discussed. Spanish officials have been denying that such a measure will be needed. Today a spokesman for the Spanish government reiterated that position:
We strongly deny any such plan. This possibility (of a 300-billion-euro rescue for Spain) has not been looked at and has not been discussed.
The amount that was supposedly discussed by de Guindos and Schaeuble, 300 billion euros, is three fifths of the 500 billion euros that will be in the European Stability Mechanism, the constitutionality of which is currently being considered by the German Constitutional Court.
The news of a possible Spanish bailout comes after Brussels officials acknowledged that Greece has fallen far short of its reform targets, and could not be saved by a second bailout installment.
Seeing the situation in Europe deteriorating President of the European Central Bank, Mario Draghi, stated yesterday that the ECB would do whatever is necessary to save the single currency:
Within our mandate, the ECB is ready to do whatever it takes to preserve the euro. And believe me, it will be enough.
The statement managed to lower Spanish borrowing costs from the highest they had been since Spain adopted the euro. However, borrowing costs remain worryingly high.
German Chancellor Merkel and French President Hollande also reaffirmed their commitment to the eurzone in a joint statement today:
Germany and France are deeply committed to the integrity of the euro zone. They are determined to do everything to protect the euro zone.
Regardless of the level of commitment Hollande, Merkel, and Draghi have to the single currency project it is looking increasingly likely that Greece will not be able to stay in the eurozone and that Spain will accept a soveriegn bailout. Greece has failed to keep to the commitments laid out in the bailout agreement, why anyone would think that Spain would be able to behave more responsibly remains unclear.