Scalia Says Supreme Court Not in Strife Over Obamacare Ruling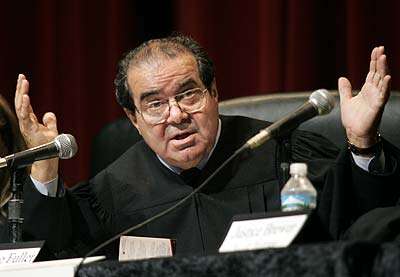 NPR's Nina Totenberg sat down with Supreme Court Justice Antonin Scalia, who's out promoting his new book Reading Law: The Interpretation of Legal Texts, and the discussion inevitably turned to the Court's controversial ruling upholding the Patient Protection and Affordable Care Act and the recent reports that Chief Justice John Roberts' vote in favor of Obamacare had enraged the Court's other conservatives. As Totenberg writes:
Citing unnamed sources with knowledge of the court's internal deliberations, CBS reported that Chief Justice John Roberts had changed his mind while considering the health care case, and that his reversal infuriated the four other court conservatives, who dissented.

Scalia, however, disputed any notion that the decision sparked anger and acrimony inside the court.

"That's just not the way justices of the Supreme Court behave, going into pouts. I mean that — it's absurd," he said. "If you can't disagree even vehemently on the law without taking it personally and getting angry at the person, you ought to look for another job." As if to prove the point, Scalia added that his "best friend on the court is Ruth Bader Ginsburg, and God knows she doesn't vote my way much of the time."

The justice refused to discuss the court's internal deliberations, but added pointedly, "You shouldn't believe this stuff that you read in the press [about internal deliberations]. It's either made up or comes from an unreliable source."
Read the whole thing here. Read Reason's Obamacare coverage here.