Parent-triggered Charter School Transition Effort Given New Life in California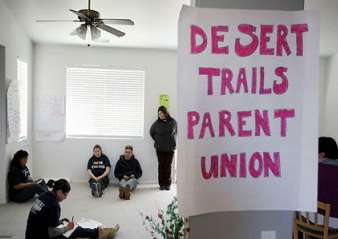 Efforts by parents in Adelanto, Calif., to attempt to convert their failing elementary school into a charter school had been rebuffed by the school district, which had invalidated more than 100 signatures from their petitions.
A judge, however, has ordered many signatures restored, allowing the parents to move forward. Via the Redlands Daily Facts:
The ruling makes the Desert Trails Parent Union the first group to successfully enact California's 2010 Parent Empowerment Act.

The "parent trigger" law allows parents at underperforming schools to force major changes on a campus if they can gather signatures from 50 percent of the school's parents.

The changes include converting the school into a charter school or replacing half the staff.

Judge Steve Malone on June 18 ordered the Adelanto Elementary School District to accept the petition filed by the Desert Trails Parent Union's, ruling that the district did not have the discretion to toss out signatures that proponents gathered, saying it was an abuse of their discretion.

Proponents said the petition had been signed by about 70 percent of the parents at the district's worst school, but district officials attempted to disqualify many of the signatures, enough that the petition fell 16 signatures short of the 50 percent needed for the parents to enact sweeping changes.
The judge ordered the school district to start accepting proposals from charter schools to take the elementary school over. Desert Trails Elementary is considered one of the worst elementary schools in the state, ranking in the bottom tenth in test scores. Only a quarter of its sixth-graders can read and do math at grade level.