The Fizzy Math Behind Bloomberg's Soda Ban
New York City's proposed ban on sodas greater than 16 ounces rests on shaky premises. But proponents think those trump "trivial issues of personal freedom".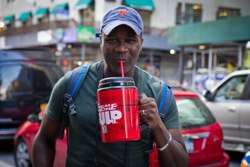 On Tuesday the New York City Department of Mental Health and Hygiene will hold a public hearing on Mayor Bloomberg's proposal to ban the sale in the city of sweetened beverages greater than 16 ounces. The ban would impact drinks containing sugar or any other "caloric sweetener," which could include everything from a 20 ounce bottle of soda sold by a food truck or cart to a soda sweetened with high fructose corn syrup sold by a fast food restaurant to an iced tea sweetened with honey sold by a baseball-park vendor.
I'll be speaking in opposition to the ban at the hearing—on behalf of the members and supporters of the nonprofit I lead, Keep Food Legal—for two main reasons. First, the ban would restrict food freedom of choice. In this way it's no different than several other New York City food-related bans dreamt up by Mayor Bloomberg's administration that I noted in an earlier Reason column on the soda ban. A partial list of these bans includes a proposal to restrict new tavern licenses, a suggested ban on happy hours, a ban on food donations to homeless shelters, an attempt to limit restaurants' use of salt, and a trans fat ban.
The second reason the ban is a bad idea is that it rests on bad assumptions. It's this latter argument that particularly interests me here.
For one, the justification for the proposed rule appears to rest largely on a claim that Americans are obese because we "consume 200-300 more calories daily than 30 years ago, with the largest single increase due to sugary drinks." But nothing in the one citation on which that claim is based, a 2005 article in the Annual Review of Public Health, directly supports this bold claim.
Rather, the authors of that study looked at the results of five earlier studies that showed "caloric intake rose by roughly 12% (300 calories per day) between 1985 and 2000, mainly because of increased consumption of grains, added fats, and added sugars."
The closest the researchers get to validating the basis of the New York City health department's proposed rule is when they note an "increased consumption of carbohydrates" in the form of "fruit and soft drinks, [which] are also responsible for a surprising number of calories." But the authors then immediately cite other research that pegs "increased snacking" (with no mention of soda) as the main factor behind increased caloric intake. What's more, the ARPH authors conclude that neither soda nor sugar nor carbohydrates but "technology may be primarily responsible for the obesity epidemic."
Other ban opponents have also cited data that throws the entire basis and purpose of the proposed ban into question.
"From 1999 to 2010, full-calorie soda sales declined 12.5% while obesity rates went up," notes New Yorkers for Beverage Choices, a group that opposes the ban. "According to the CDC, added sugars consumed from sugar sweetened beverages are down 39% thanks in part to more low- and zero-calorie choices."
The ban does have its supporters. But the comments the Mayor's office has posted so far trumpeting support for the ban are informative.
One commenter, Rowan University Prof. Lawrence Weisberg, MD, claims the positive impact the ban will have will far outweigh "trivial issues of personal freedom" the ban raises.
Another commenter, Dr. Joseph Vassalotti of the National Kidney Foundation, refers only to the Mayor's general campaign against obesity and doesn't mention the soda ban at all—nor, indeed, does Vassalotti mention beverages. And the National Kidney Foundation (nor anyone else, for that matter) apparently didn't even see fit to tout the statement at its own website.
Others supporting the ban include filmmaker Spike Lee (who argues, among other things, that "[c]hildren today in public schools across the country are not being taught art"), author Eric Schlosser ("Soda isn't food."), and Jamie Oliver ("[W]e are way past the point where can trust people to make better choices. We have to help them make better choices.").
Other data provided by the city health department in support of the ban doesn't exactly build a case for it. For example, according to a chart featured in a recent health department presentation in support of the proposed ban, a 16 ounce large soda has not been the norm at McDonald's since the 1960s—well before obesity rates began to climb in America.
With all the evidence against the ban, one would think ban opponents would have at least a fighting chance to halt the ban in its tracks. But some aren't so sure.
"When it's been pre-decreed by Bloomberg and Health Commissioner Thomas Farley and the hearing board members are all, well, on board, let alone full of Bloomberg[] appointees, then what we have is a theatrical production, not a hearing," writes Audrey Silk at the Huffington Post. Silk argues that the hearing is just keeping up appearances for what she says will follow—rubber-stamp legislating by an unelected board of Bloomberg appointees.
Is this all a big Kabuki dance? I hope not. And I'll be disappointed if it is. And I'll probably be in need of some liquid refreshment.
Luckily New York City still has many such places offering sustenance to weary travelers. And at one such place, the acclaimed Northern Spy restaurant in the East Village, Keep Food Legal will be holding a happy hour (beer, wine, and cocktail specials!) and soda salon following the public hearing on Tuesday.
"Northern Spy is proud to host the Keep Food Legal Happy Hour because we believe in a robust and open debate on food policy and access issues," says co-owner Christophe Hille. "We think that any time one group in a position of power dictates limits on what another group may consume, it's worth at least being skeptical."
Learn more about the happy hour and soda salon here. After all, you're invited. And as an added incentive, we'll be giving away one $50 gift certificate to Northern Spy to a random Keep Food Legal member (existing or new) in attendance.
If you can't make it to the happy hour and you'd like to submit comments of your own related to the proposed soda ban—something Keep Food Legal will be doing—you may do so here before Tuesday's 5 p.m. deadline.
Baylen J. Linnekin, a lawyer, is executive director of Keep Food Legal, a Washington, D.C. nonprofit that advocates in favor of food freedom—the right to grow, raise, produce, buy, sell, share, cook, eat, and drink the foods of our own choosing.