As Pension Bombs Explode, California's Budget Masters Cross Fingers for Tax Increase Vote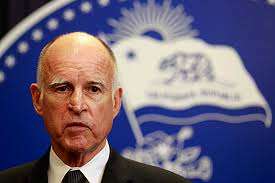 California legislators – by which we mean California Democrats, because the Republicans were pretty much left out – will be finalizing their various tweaks to the state's $91.5 billion 2012-13 budget today so Gov. Jerry Brown can sign it by a midnight deadline tonight.
In the face bowels of economic despair, Brown has managed (maybe) to get public sector unions to agree to take 12 unpaid days off next year (which is being touted as a 5 percent pay cut even though it's only a one-time proposal). Along with some other cuts, the state believes this will save $276 million next year. Reminder: California's budget deficit is somewhere around $16 billion.
Lest anybody mistakenly think Brown is the sole source of the state's financial dementia, the state legislature's version of the budget actually restored some of the cuts Brown made, necessitating some of the negotiating. Thanks to Proposition 25, passed in 2010, only a majority of legislators are needed to pass the budget rather than two-thirds. Not a single Republican voted for the budget, but it doesn't matter.
The budget has a great big $8 billion hole in it that Democrats hope will be filled by Brown's ballot initiative temporarily increasing sales tax and income taxes of those earning more than $250,000 a year. If the initiative fails in November (and voters just recently defeated a tax hike that affected only smokers), cuts will hit school districts, possibly reducing the school year by three weeks. One of the trailer bills attached to the budget would manipulate how ballot initiatives are placed on the ballot to give Brown's tax increase preferential positioning.
The state's public pension bomb continues ticking in the meantime. Over at Voice of San Diego, Liam Dillon explains why three words from a court ruling in 1917 have resulted in a system were existing pension benefits in California can never be lowered, only increased. This is why much of pension reform within the state has focused on changing benefits for new hires.
In the meantime, as Tim Cavanaugh reported this morning, the City of Stockton will file for bankruptcy protection, making it the largest city (population: 290,000) in America to do so.