Who Will Save Our Precious Children from the Vile Purveyors of Cranberry Juice?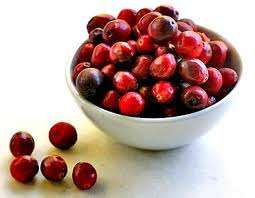 I don't know about you, but whenever I see fat kids waddling around with their parents at the grocery store or the movie theater, I think to myself, "They need to lay off the cranberries."
No, of course not, but that's the latest potentially stupid outcome as the federal government continues to screw around with school food options in their efforts to fight childhood obesity. Via USA Today:
To address childhood obesity in America, an effort spurred by first lady Michelle Obama's "Let's Move" initiative, the Department of Agriculture is finalizing guidelines for what can be sold in school vending machines, stores and a la carte cafeteria lines. Sugar is widely viewed as a target, and sweetened beverages like cranberry juice cocktail could be deemed unhealthy.

That would be unfortunate and unfair, cranberry industry officials say, because the tart, deep red fruit is loaded with nutrients and health benefits. But for consumers to avail themselves of those benefits, cranberries must be sweetened.
The fear is that cranberry juice will be lumped in with soda because of the sugar content. The health benefits of cranberries are apparently not relevant, just that it has too much sugar for the government.
In yet another example of government interference creating a market for even more government lobbying, fears of a school ban have resulted in the creation of the Congressional Cranberry Caucus. Cranberry farming interests are relying on support of U.S Congress members from their home states fighting to keep cranberry juice available in schools:
"Given the beneficial and scientifically proven health properties of cranberries, we believe there is a need to establish clear standards that recognize cranberries as a part of a healthy diet," the lawmakers wrote in a letter to Agriculture Secretary Tom Vilsack. "We ask that you consider including a variety of cranberry juice and dried cranberry products in USDA's food nutrition program so that children, seniors and adults served by these programs are not denied benefits unique to cranberries."

The lawmakers sent a similar letter to the first lady, pointing out cranberries "contribute to whole body health, particularly urinary tract health and the potential to fight cancer and other diseases."
But who would dare speak against the cranberry, allegedly introduced to colonists by Native Americans and sometimes used in pemmican, the ancestor of our beloved Slim Jims?
USA Today sought out the Center for Science in the Public Interest, always good when a libertarian needs somebody to make him or her want to punch a wall:
"There's some evidence to show that cranberry juice can prevent urinary tract infections, but that doesn't mean everyone should be drinking cranberry juice every day," said Margo Wootan, director of nutrition policy for the Center for Science in the Public Interest. "Only 3 percent of kids a year have urinary tract infections, compared to one-third who are overweight. Urinary tract infection is not a booming epidemic. Obesity is."
Incidentally, well aware of growing sensitivity to sugar content, Ocean Spray introduced a diet version of its juices years ago, replacing the sugar with Splenda. I live off the stuff at home, due to taking personal responsibility for reducing my sugar and caffeine content and not needing the first lady to explain to me how basic nutrition works.
Also as a reminder, the potential ban of cranberry juice falls into one of the problems alluded to in a study analyzing the consequences of banning junk food in California schools. Even though kids were consuming fewer calories in school, the nutritional benefits of the food they were eating weren't any better. Banning cranberry juice because it has something unwanted (sugar) and ignoring the nutritional benefits (antioxidants and vitamin C) is an elegant example of this consequence.