Schilling Claims He Lost Fortune in Government-Funded Video Game Studio Collapse
Baseball fans, keep an eye out to see if a bloody sock shows up for auction at Sotheby's.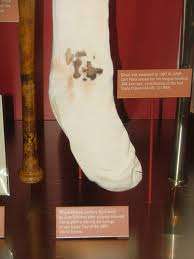 Former Red Sox pitcher Curt Schilling, who parlayed a successful baseball career into a disastrous foray into video game production, said he put up $50 million of his own savings in 38 Studios, the game company that was awarded $75 million in loan guarantees from the state of Rhode Island, only to collapse into bankruptcy. Via The Associated Press:
Schilling said during a 90-minute interview on WEEI-FM in Boston that he put more than $50 million of his own money in the company and that he's had to tell his family that "the money I saved during baseball was probably all gone."

Schilling said he hopes to return to work soon as an analyst for ESPN. He took a leave of absence from the network after 38 Studios filed for bankruptcy protection on June 7. The firm was lured to Providence from Massachusetts in 2010 after Rhode Island offered a $75 million loan guarantee. The state is working to determine how much it's on the hook for after the company's collapse.

While he conceded that he "absolutely" was part of the reason the company failed, he said public comments made by [Gov. Lincoln] Chafee last month questioning the firm's solvency were harmful as the firm tried — but failed — to raise private capital to stay afloat.

"I think he had an agenda," Schilling said about Chafee.
Chafee's agenda of not wanting to pay the political price for a loan of taxpayer funds that he opposed but was approved before he was elected governor should hardly be a mystery at this point. Rhode Island residents are watching as their cities file for bankruptcy over pension burdens. Commenters on these news stories in Rhode Island want to see Schilling in jail (not that he's been accused of anything illegal as yet). He's being sued by Citizens Bank looking to recover a $2.4 million loan.
A loan guarantee offered to a game company who had almost no history at the time in a rather unpredictable entertainment industry that burns through huge amounts of cash up front before it can make any revenue – all to produce a game for an already oversaturated fantasy genre – had all the markers of a disaster. One can only hope the 38 Studios case becomes the state/municipal-level Solyndra warning – don't give tax money to private speculative ventures.
Rhode Island officials' argument for the loan was "Jobs! Jobs! Jobs!" The loan was conditional on luring 38 Studios' employees from Massachusetts to the Ocean State. So how did that go for them, besides losing those jobs? Brian Crecente at Polygon has the answer:
Some of the hundreds of 38 Studios employees laid off … were hit with a second round of bad news … when they were told that homes they thought the company had sold for them hadn't been, and that they may be stuck with a second mortgage, Polygon has learned.

Several sources directly impacted by the mortgage issue confirmed the news today and a 38 Studios official, who asked to not be named, said the company is working to try and get to the bottom of the notifications and find a resolution.

One former employee said they discovered this week that their Massachusetts home, which they had been told was sold last year, actually hadn't been. The bank contacted them this week to ask why they mortgage wasn't being paid.
Some of Schilling's former employees have been picked up by Epic and spun off into a new studio. Other New England-based studios have been reaching out to those laid off to try to find positions for them.
If governments don't learn anything from this (because do they ever?), perhaps the studios themselves will. If 38 Studios hadn't accepted the loan in the first place, what might have happened? They might have found more private investors based on the mild success of their one game release. They might not have, and Project Copernicus (the informal title for the online game the loan was intended to help bankroll) might have never gotten off the ground at all. While that would have been a disappointment to Schillings' team, it would have avoided not just a political scandal in Rhode Island, but the terrible fallout for 38 Studios' employees and even Schilling himself. Maybe he wouldn't have spent that additional $50 million if he wasn't dependent so much on that government funding to keep the studio afloat. Maybe he would have seen the writing on the wall so much sooner without government largesse distorting his sense of risk. It's something other companies – and certainly other company employees – should keep in mind before getting into a situation where politicians are filling the till with taxpayer dollars. Government rarely ever pays the price for its own foolish decisions.
Check out our previous coverage of this mess.