Fighting Against Richard Nixon's Drug War Now a Part of Uruguay's Foreign Policy as Government Moves Towards Being Monopoly Supplier of Marijuana Domestically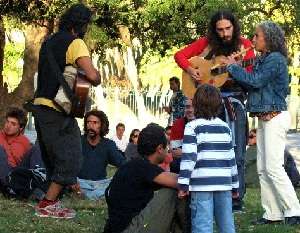 The government of Uruguay is moving one step closer to normalizing marijuana in their society, sort of. Uruguay never criminalized the possession or personal use of marijuana, focusing instead on medium to large-scale drug trafficking. Now, the government wants to become the sole distributor of marijuana in the country. Soon enough, Uruguay's pot-smokers may be paying dank prices for schwag. Details of the plan, via the Associated Press:
Under the plan backed by President Jose Mujica's leftist administration, only the government would be allowed to sell marijuana and only to adults who register on a government database, letting officials keep track of their purchases over time. Profits would reportedly go toward rehabilitating drug addicts.
"It is a fight on both fronts: against consumption and drug trafficking. We think the prohibition of some drugs is creating more problems to society than the drug itself," Defense Minister Eleuterio Fernández Huidobro told reporters late Wednesday.
Mr. Fernández said the bill would soon be sent to Congress, which is dominated by President Mujica's party, but that an exact date had not been set. If approved, Uruguay's national government would be the first in the world to directly sell marijuana to its citizens. Some local governments do so.
Apparently the move was spurred by increasing drug violence in the "peaceful" Uruguay as well as Mojica's dimming popularity. The defense minister also framed the move in the context of Uruguay's foreign policy. From Fox News Latino:
"We don't want the same thing to happen to us in Uruguay," the defense minister said.
The administration of President Jose Mujica, currently in Brazil for the Rio+20 environmental summit, will "fight (in) all the international forums" for the legalization of marijuana, Fernandez Huidobro said.
The defense minister announced the decision to legalize the psychoactive drug at a press conference, in which he was joined by presidential secretary Alberto Breccia, Interior Minister Eduardo Bonomi and Social Development Minister Daniel Olesker.
It will now be "Uruguayan foreign policy" to combat the "prohibition (of consumption) begun in 1971 by the erroneous decision of former U.S. President Richard Nixon, who brought about the current disaster" by "declaring a war that's been won by the narcos," Fernandez Huidobro said.
Reason.TV talked to Uruguay's Speaker of the House, Luis Alberto, among other politicians, journalists and former drug warriors, at the CATO Institute's "Ending the War on Drugs" conference last year: