Video Shows Cops Tasing a Restrained Woman In Accordance With a Policy That May Not Exist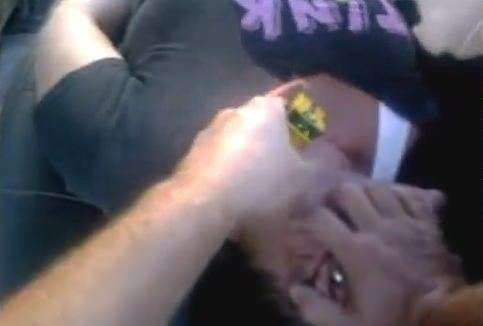 Let's all sing the praises of video-recording technology and whistleblowers. And journalists looking for a big story. That's what it took to expose the tasing of a "mentally troubled" 34-year-old woman by Chariton, Iowa, police who had, ostensibly, pulled her and her boyfriend over because they feared she was the victim of domestic abuse. They ended up zapping her after they had her handcuffed and confined to a police car. And they zapped her according to a Use of Force Policy that may not exist.
A mentally troubled woman, tased by a Chariton police officer even after she was hogtied in the back of his police cruiser, is speaking out.

It's a video the Chariton Police Department does not want you to see. It shows Sergeant Tyler Ruble tasing 34-year old Amy Storm after Storm was stopped two years ago because Ruble was investigating whether she was the victim of domestic abuse.

The video shows officers cuffing her hands and feet, and hog-tying her…then tasing her while she was in the back seat of the police cruiser.

After our story aired, Storm contacted us. She says she never filed a complaint because she didn't realize there was a video. Watching it now brings back a flood of emotions. "I can't believe there's a video." Storm says fighting back tears, "I can't believe that's me. I started crying. I just…I knew it was bad when it was happening. I just didn't realize it was that bad. I didn't…I didn't realize how bad it was."
Police cited HIPAA privacy regulations in refusing to surrender the police-taken video to the TV station. The video was obtained anyway "through someone with connections to the department." The department's reticence might be explained by WHO's report that those arms holding Storm down in the photo above belong to Lucas County Sheriff Jim Baker.
Not surprisingly, Baker, along with Chariton Police Chief Jeff Johnson, responded to the report of Storm's shocking treatment. The duo's press release (PDF) says:
[A] Chariton Police Officer, acting in conjunction with veteran officers from the Sheriff's Office, was required to implement the City's Use of Force policy. The subject was subdued and an arrest was made without further incident. Following the arrest the Department received no complaints or comments from any party involved in the arrest.
Baker and John also complained that they were "willing to comply with WHO's request for release of the video, but the City needed to confirm first that the privacy rights of non-City personnel shown in the video were protected as provided by federal and state law."
In a written statement the police chief defends the tasing saying it's been reviewed by his department and the city. But that's news to the mayor, who admits he's never seen any such report. The mayor then refused to answer any more of our questions.
WHO also pointed out in its initial broadcast that they had been refused access to the Use of Force Policy on the grounds that it was being revised and did not address the use of Tasers.
Ouch.
Amy Storm is now pursuing legal action.
Note: I can't get the video to embed. See it here.