Conservative Historian's Defamation Suit Tests Texas Anti-SLAPP Law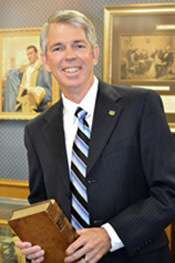 Last year the Texas legislature enacted one of the country's strongest statutes aimed at protecting freedom of speech from frivolous lawsuits. The Citizens Participation Act, which took effect a year ago yesterday, allows defendants to quickly challenge speech-related tort claims before discovery begins and automatically recover legal fees if they are successful. A defendant has 60 days to move for dismissal, at which point the judge must schedule a hearing within 30 days (unless "docket conditions" make that impractical) and rule no more than 30 days after that. At the hearing, the plaintiff must present "clear and specific evidence" establishing "a prima facie case for each essential element of the claim in question." If he fails to do so, the case is dismissed. This process allows the victim of a "strategic lawsuit against public participation" (SLAPP) to be rid of it within a few months, as opposed to a few years, which can make a huge difference, especially for defendants who do not have much money to pay a lawyer.
So far the Citizens Participation Act has been cited in about two dozen cases. The first two dismissals granted under the statute illustrate how quickly the process can work. In September a judge dismissed a lawsuit that Wholesale TV and Radio Advertising had filed against the Better Business Bureau of Metropolitan Dallas, which gave the company a poor rating and criticized its name as misleading. In November a judge dismissed a defamation suit against The Houston Chronicle and two local TV stations by two men whose photos were erroneously distributed in connection with a robbery, concluding that the news outlets had accurately reported official allegations. The first case was dismissed two months after it was filed, and the second case lasted four months.
But what happens when a judge rejects an anti-SLAPP motion? We should find out soon in a case that SLAPPed in Texas blogger Alicia Wagner Calzada says "could lead to the first appellate ruling interpreting the law." The case was brought by David Barton, a former vice chairman of the Texas Republican Party, who sued two Democratic candidates for the State Board of Education, Judy Jennings and Rebecca Bell-Metereau, over a 2010 online campaign video that mocked the curriculum reform efforts of the board's "right-wing extremist" members. Among other things, the video noted that the board had sought advice from Barton, a conservative historian who founded WallBuilders, "a national pro-family organization that presents America's forgotten history and heroes, with an emphasis on our moral, religious and constitutional heritage." The video said Barton was "known for speaking at white supremacist rallies," citing two speeches he gave in 1991 to groups associated with the racist, anti-Semitic Christian Identity movement. Barton does not deny giving the speeches, but he says he was unaware of the groups' ideology at the time and is not "known for" a couple of talks he gave two decades ago. Barton's critics probably would disagree, and the publicity generated by his lawsuit can only draw more attention to those embarrassing gigs. In any case, judging from the summary of the case in a recent Texas Tribune article, Barton does not claim Jennings and Bell-Metereau got the facts wrong; he just doesn't like the spin they put on those facts. A Parker County judge nevertheless denied Jennings and Bell-Metereau's anti-SLAPP motion without comment, and they have asked the Second Court of Appeals to reverse that decision.
According to the Tribune, Barton argues that the Citizens Participation Act does not allow such an appeal—a puzzling claim, since the statute explicitly refers to appeals of rulings on anti-SLAPP motions. It says, for example, that if a judge fails to rule on a motion within 30 days of a hearing, "the motion is considered to have been denied by operation of law and the moving party may appeal." It also says "an appellate court shall expedite an appeal" of a ruling on an anti-SLAPP motion, making a decision within 60 days. Laura Prather, an Austin media attorney who led the coalition that lobbied for the Citizens Participation Act, told the Tribune that denying a right to appeal would take "all of the teeth" out of the statute, forcing SLAPP victims to go through a burdensome and expensive discovery process and possibly endure a trial before vindicating their First Amendment rights—precisely the problem that the state legislature sought to address by passing the law.