Forward Your Data-Mined $3 Obama Dinner Invitation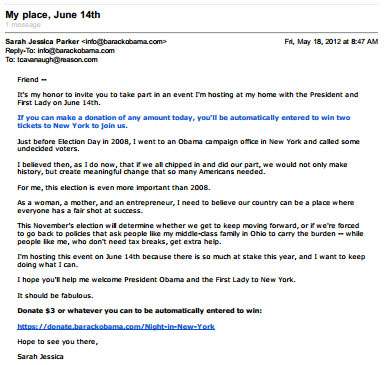 Who says I don't like Anna Wintour and Mariah Carey? It's classist stereotyping for President Obama to use my clothing bills from Ross Dress for Less and my pledge-drive donations to KUSC against me.
ProPublica is calling for alternate versions of the White House's relentless emails. There are many subtle textual variants of the invitation to tonight's presidential dinner at Sarah Jessica Parker's New York residence, and reporter Jeff Larson wants to get them all:
For instance, last Monday, the Obama campaign sent out an email about a dinner with the President at Sarah Jessica Parker's house this coming Thursday. Participants in our Message Machine project forwarded over 100 copies of this mailing to us and we found seven distinct variations of the message. The Obama campaign refused to comment on the email but you can explore the differences in the Message Machine.

Some versions of this message promise, in a postscript, an after-dinner concert by Mariah Carey, while others barely mention the concert. The mailings show the campaign tailoring its message for different audiences — variations of the message ranged from a very brief introduction and a link to a video, to a longer email asking for a donation. Recipients who had recently donated to the Obama campaign received emails with slightly different wording than those who had not, but just who is being targeted with some of the variations is hard to decipher. For instance, one variant mentions that Sarah Jessica Parker is a mother, while another that Anna Wintour is attending the dinner. These changes in wording suggest that the campaign is optimizing their messages, but we need a bigger sample to figure out how.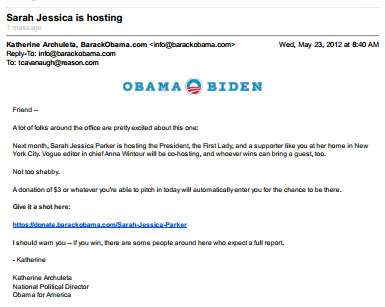 I got an invitation from the Sex and the City trouper (her email address is info@barackobama.com) back in May, but I didn't get around to responding. A few days later Obama campaign director Katherine Archuleta followed up.
Since I got the version in which Parker outs herself as a mother, I should point out that I share my eight-year-old kid's skeptical view of Obama's more-than-daily email requests: "I've never heard of a president asking for three dollars."
I also think Wintour's 86ing of her Asma Assad profile was not just bad faith but bad journalism.
And I'll cop to having believed in the nineties that Mariah Carey ripped off Whitney Houston's act, though I have since gained some respect for her staying power.
But in addition to misgauging my taste (dinner with Parker's Square Pegs co-star Jami Gertz would be more up my alley), the Obama team doesn't even seem to know my zip code. Parker's email bore the neighborly subject line "My place" even though I would have needed to make a transcontinental journey to attend her dinner. But when inviting me to George Clooney's Obama bash just a few minutes from my apartment, Rufus Gifford, the bank president's son who now helps protect the 99 percent as the president's chief fund raiser, promised, "We'll take care of airfare."