Texas Police Chief Accused of Shooting Two Dogs and a House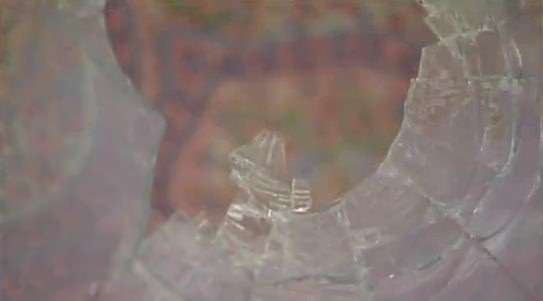 I just know that our brave law-enforcement officers are all that stands between us and the barbarians inside the gates, but sometimes it's hard to distinguish the cops from the Visigoths when they plug napping dogs and pop a round or two at occupied houses in the process. At least, that's what a Florence, Texas, family says the local police chief did, and the cops aren't saying anything to counter the story.
According to KVUE, reporting the story told by the Vybiral family:
Caren says she was watching a movie with her two year old daughter Lilly when gunshots rang out. She thought they were coming from across the street.

"Thought maybe Chevron was being robbed or something. I didn't have any idea what was going on," Caren Vybiral said. "And when I walked to open the door, there was another gun shot."

Caren said Sassy was lying in the door way bleeding. And standing above her was Florence Police Chief Julie Elliot-Abshire. After a short exchange, Caren said the chief ran to the back yard and shot the other family dog that was locked up, a two year old pit bull named Boomer.

"I asked her what is going on," Caren described, "and she said, um, the b-word, did you not hear me knocking on your front door. And I said no, why did you shoot my dogs?"
Apparently, the two dogs had escaped from the yard, and wandered across the street to the gas station where they were seen and reported by a city worker. But a family friend had returned them to the house by the time the police chief arrived. Sassy, a six year old Rhodesian Ridgeback who had to be put down after the gunshots, had again escaped, but was snoozing on the front porch. Boomer, who was injured but survived, was restrained at the time of the shooting.
The Vybirals say they almost joined the list of the dead and injured, since at least one of the Police Chief Julie Elliot-Abshire's bullets took out a window and ended up in the house.
We don't know the chief's side of the story, since the doors to the Florence Police Department were locked when reporters arrived and the department isn't returning phone calls or emails. Which must be very reassuring to town residents who might like to think the cops would make themselves available for something other than berserker sprees.
The City of Florence says it's investigating the incident. One anonymous witness told KVUE the chief was being threatened by both dogs in the front yard — which doesn't square with the alleged shooting of a restrained dog in the back.