Impeached Prez: Recall Gov!
Bill Clinton steams into Badger State, talks selective recall support, fails to draw blood from Scott Walker.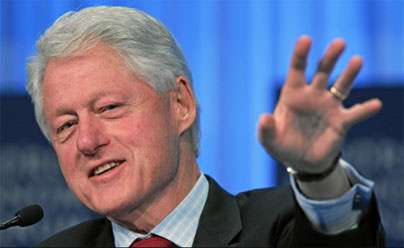 MILWAUKEE — Democratic Milwaukee Mayor Tom Barrett is campaigning against outside money flowing into Wisconsin's recall election, but in his home city Friday morning, he turned to a high-profile outsider to energize his troops.
Former Democratic President Bill Clinton, in from New York City for the day, stumped on Barrett's behalf and touted the Milwaukee mayor as someone who can unite the state to move it forward.
Clinton's speech began immediately after an embrace by the two men, and continued as the former president embraced Barrett's governing style.
"Cooperation works," Clinton said. "Constant conflict is a dead-dang loser."
Barrett's campaign is seeking to invoke class warfare in the election, saying Republican Gov. Scott Walker, the man the mayor is hoping to replace in the June 5 gubernatorial recall election, favors the interests of the rich and powerful over regular workers.
Clinton lashed out at Walker, saying common sense calls for "shared prosperity" in good times and "shared sacrifice" in tough times.
The mayor complained that Walker "has done a wonderful job of making the wealthiest people the happiest people."
While boasting of Barrett's ability to involve all groups in Wisconsin's electorate, Clinton had sharp words for some more conservative folks.
The former president said that if tea party-types like those backing Walker had their way, "there never would've been a U.S. Constitution." He went on to talk about the horse trading in which the Founding Fathers engaged to write the Constitution.
"We would not even be here today if they (tea party-types) had had their way," Clinton said.
The mayor cast the election as critical for the Badger State's future.
"It's for you. It's for your kids. It's for your grandkids," the mayor said. "It's for our state."
The former president also touched on his 2003 stump speech against the recall of California Gov. Gray Davis, saying if the process came to fruition, it would "create a circumstance where nobody ever makes a hard decision again."
For Barrett, Clinton makes an exception.
"Normally, I'm against recall elections," Clinton said, adding this is a special occasion. "It's the only way to avoid a disastrous course."
The Republican Party of Wisconsin issued a statement during the rally claiming Clinton's visit is a distraction.
"Clinton's arrival is clearly meant to provide cover for President (Barack) Obama's refusal to campaign in Wisconsin, given that today the president will be attending three campaign events a stone's throw away from Minneapolis, and then three more in Chicago," said state GOP spokesman Ben Sparks.
This article originally appeared at WisconsinReporer.com.