Scott Walker Enjoys Commanding Lead in Latest Poll
With less than a week before the recall election, incumbent Gov. Scott Walker leads in a new poll from Marquette Law School.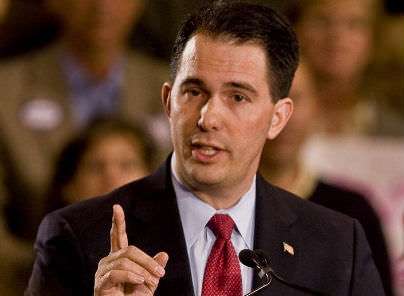 Madison, Wis.— It's hard to analyze the Marquette Law School poll released Wednesday and not say that things are looking pretty bright for Gov. Scott Walker and the GOP, less than a week before Tuesday's recall elections.
It's not just that Walker's lead over his Democratic challenger, Milwaukee Mayor Tom Barrett, has grown to 7 percent, a 52-45 percent edge among likely voters that the pollster said "falls slightly short of statistical significance."
It's not even that a slim majority, 52 percent, think Wisconsin is on the right track.
No, the biggest problem for Democrats may be that their key criticisms of Walker don't seem to be gaining traction with the Wisconsin electorate.
The John Doe investigation into the actions of Walker's former aides who served in his office while he was Milwaukee County executive?
That issue made it into Barrett's opening remarks Friday night during the candidates' first debate.
"This isn't a rematch or a do-over because we can't do over the fact that Scott Walker's administration has been investigated, a criminal investigation that looks at the activities of some of his key aides while he was county executive, and his decision, his refusal to release secret emails that were on a system that was in his county executive office and his failure to tell us who is raising his (criminal defense) funds," Barrett said.
The Marquette poll of 720 registered voters was conducted May 23-26, mostly before Barrett made those remarks.
But although the John Doe investigation has been a familiar theme in Democratic campaign ads for weeks, the poll indicates people care less about the issue now than they did in February, right after charges were filed against some of Walker's former staff members.
Seventy-seven percent of those polled last week said they had heard or read about the John Doe investigation, up 5 percentage points from February.
"There's an awful lot of news stories that are important news stories that don't hit 77 percent of the public," said University of Wisconsin-Madison political scientist Charles Franklin, who is conducting Marquette's polls.
But 47 percent of those polled said the John Doe issue is "just more politics," compared to 46 percent who said it's "really something serious."
In February, fewer had heard of the investigation, and only 40 percent of those polled said it was "just more politics," versus 50 percent who said it was a serious issue.
Walker seems to be winning on jobs perception as well.
Democrats and Republicans have been sparring over job-creation and unemployment numbers for months — no surprise, since it's the No. 1 issue on voters' mind.
But the discussion got particularly heated a few weeks ago when the state Department of Workforce Development, which is part of Walker's administration, took the unprecedented step of releasing revised 2011 jobs numbers, months before they're normally announced.
The DWD report showed that Wisconsin gained more than 23,000 jobs last year, contradicting an earlier U.S. Bureau of Labor Statistics study that said Wisconsin lost more jobs in 2011 than any other state.
The numbers were released one day before the scheduled DWD release of April's unemployment numbers, which showed Wisconsin lost 5,900 jobs that month, including 6,200 in the private sector.
Critics said Walker was using his administration for political purposes.
Walker's campaign said the numbers prove Walker is improving Wisconsin, and turned the criticism back on Barrett for overseeing a city with an increase in unemployment.
"The policies Barrett has implemented in his city have proven detrimental and Wisconsin cannot afford to let him take the state back to the failed days of record-setting job loss and double-digit tax increases," Walker spokeswoman Ciara Matthews said in a statement after the DWD report was released.
Wisconsinites, even political experts, find themselves confused as to the current job situation.
But the Marquette numbers skew strongly in Walker's favor: In Marquette's poll released two weeks ago, 20 percent of those polled said Wisconsin has more jobs now than it did a year ago. That's up to 38 percent in the poll released Wednesday—an 18-percent increase in two weeks.
Democrats sounded a positive note Wednesday.
Before to the release of the Marquette poll, Barrett's office announced a different poll showing the gubernatorial race tied at 49 percent.
That poll was conducted by Celinda Lake, whom Franklin said is a "very respected" Democratic pollster.
Franklin announced Marquette's results with several notes of caution.
First, he said, don't read too much into any one poll, then noted that no poll since April has shown Barrett leading.
The Lake poll, however, was taken after Friday's debate, and Barrett might have gotten a boost from his showdown with Walker, Franklin said.
All polls come with a margin of error: For the Marquette poll, it was 3.7 percent for questions involving all respondents and 4.1 percent for those questions asked only of likely voters.
And, to a certain extent, polling for this unprecedented race is a bit of guessing game, Franklin said.
No one knows which voters, and how many, will turn out on election day, he said.
The Government Accountability Board, the state's election watchdog, estimated this week that voter turnout would be between 60 percent and 65 percent.
But even GAB Director and general counsel Kevin Kennedy said, "Wisconsin has never had a statewide recall election, which makes predicting turnout difficult."
In the end, Franklin said, what matters is which candidate has the most votes Tuesday.
"None of these polls are going to determine who's going to win the election," he said.
This article originally appeared at WisconsinReporter.com.