Schilling Shifts from Video Games to Blame Game in Rhode Island Loan Disaster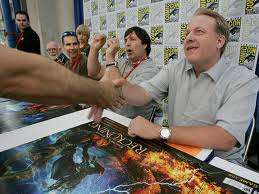 In the fallout from the complete and utter mess that has become of Rhode Island's investment of taxpayer money in a new video game studio with no publishing history, company founder Curt Schilling is trying to lay the blame on the state's governor for the crime of letting everybody know about it.
After defaulting on payments on the $75 million guaranteed loan Rhode Island extended to Schilling's game company, 38 Studios, and laying off all its staff, Schilling went whining to the Providence Journal that by letting everybody know the company was struggling earlier in the month, Gov. Lincoln Chaffee caused potential private investors to pull out:
Within 72 hours of Chafee's May 14 statement that the state was trying to keep 38 Studios "solvent," Schilling says, a video-game publisher pulled out of a $35-million deal to finance a sequel to Kingdoms of Amalur: Reckoning, the fantasy game that 38 Studios released in February.
Chafee responded that Schilling's claim "defies logic." The Providence Journal's web polling has more than half its voters laying the blame on Schilling. (The Providence Journal has compiled all its coverage of 38 Studios here.)
It's difficult to imagine a private company considering investing in 38 Studios knowing it was having problems with its loan payments and making payroll, and given that the single game the company had released had sold less than half the copies needed to break even. There's always the possibility that this mystery publisher didn't know, which raises doubt they would have the business savvy to pull 38 Studios out of this tailspin anyway.
Even assuming Schilling isn't full of shit, the scrap is an example of one of the many hazards of mixing politics with investment. Chafee opposed the loan, which was approved prior to his election into office in 2010. He told the Providence Journal he wants to now try to make the project succeed, but there's absolutely no chance of him using any sort of political capital or risking electoral backlash as angry Rhode Islanders scream about the deal. Why on earth would he?  What's the political gain here? There isn't a sock big enough to contain the blood that will come spurting out when Chafee tosses Schilling under the bus as taxpayers cheer him on.
The scandal is also picking up steam. This morning it moved beyond the New England media outlets and gaming blogs into a segment on CNN.
For fun "When I say I'm for smaller government, I mean the other guys" hypocrisy: Brian McGrory of The Boston Globe rakes Schilling over the coals for talking the talk as a fiscal conservative and supporting Republican candidates but not walking the walk for taking the loan.