Phonehenge Architect Sentenced to Pay For Demolition, "See Dead People"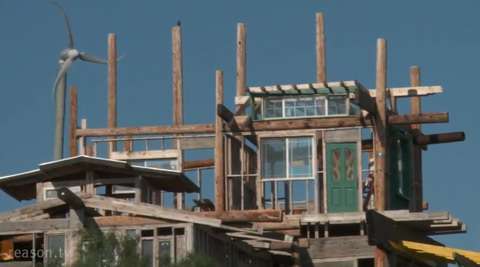 Kim Fahey, the retired phone company repairman who built a fantastic and whimsical fort known as "Phonehenge" out of old telephone poles in the middle of the Mojave Desert, has been sentenced to repay the $83,488 it cost the county to demolish his creation, reports the Washington Post:
Superior Court Judge Daviann L. Mitchell told Fahey that he must pay $50 a month in restitution. He ordered a July 27 progress report.

The 59-year-old retired phone company technician was convicted of a dozen misdemeanor building code violations. Fahey never got building permits for the structures, which included a 70-foot tower, and authorities said the compound was a danger.
In a more bizarre turn, the judge is also requiring Fahey to work for five days in the coroner's office. According to Fahey's defense attorney Jerry Lennon, the judge wanted to teach him a lesson about the potential deadly consequences of building unpermitted structures in the middle of the desert:
"The judge thought it was an extreme fire danger and I guess she just wanted him to see dead people," Lennon said.
Reason.tv highlighted Fahey's case in a video produced with LA Weekly's Mars Melnicoff, which examined Los Angeles County's code enforcement policies, particularly the seemingly arbitrary deployment of so-called Nuisance Abatement Teams (NATs) against citizens of the barren Antelope Valley.