Postal Service Scales Back Scaleback: Will Close Nothing, Nowhere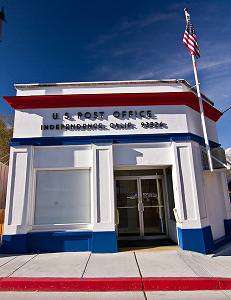 In the face of complaints from rural interests, the U.S. Postal Service backed off today on plans to close up to 3,700 of its 31,000 post offices.
The proposed closings aimed to cut expenses, but the Associated Press reports the USPS will keep all the post offices open, under reduced hours:
At a news briefing, Postmaster General Patrick Donahoe said the mail agency was backing off its plan to close up to 3,700 low-revenue post offices sometime after May 15. Citing strong community opposition, Donahoe said the agency will now whittle down full-time staff but maintain a part-time post office presence in rural areas, with access to retail lobbies and post office boxes.

Under the emerging strategy, no post office would be closed. But more than 13,000 rural mail facilities could see reduced operations of between two and six hours.
Doublespeak from Donahoe at the press conference announcing the wimpout: "We've listened to our customers in rural America and we've heard them loud and clear—they want to keep their post office open. We believe today's announcement will serve our customers' needs and allow us to achieve real savings to help the Postal Service return to long-term financial stability."
So even though they're backing down on a significant cost-cutting venture due to complaints from a shrinking customer base, they're still going to achieve savings and return to financial stability. The Postal Service estimates scaling back hours for 13,000 mail facilities would save half a billion dollars annually. Some 3,000 of these post offices only see about two hours worth of customers per day as it stands, according to the Postal Service.
The House and Senate haven't been helpful either. Legislators, buckling to voter complaints, have been blocking or stalling efforts to reduce the postal services expenses by reducing services. The Postal Service is still pushing to eliminate Saturday deliveries, which it estimates would save $3.3 billion the first year and $5.1 billion by 2020.
The Postal Service risks hitting its $15 billion debt limit this year due to mandatory health payments to prefund retiree health benefits. Prefunding mandates have been among the few successes in USPS management and could reduce unfunded pension liabilities nearly a third by the end of this decade. But the National Association of Letter Carriers is still hoping to "fully lift the onerous burden to fund decades of future retiree health benefits decades in advance," thus leaving future taxpayers to pick up the shorftall.
Greg Beato wrote about the challenges of actually trying to close post offices and some of the absurd arguments used to defend them in Reason last year.
More Reason on the postal system.
Correction: In my efforts to be clever with the headline, I unintentionally gave the impression the Postal Service has never closed anything at all in its efforts to scale back. They have closed and/or combined a number of processing facilities. Apologies for the hyperbole.