New Jersey Supreme Court Reviewing Kyleigh's Law Requiring Young Drivers to Display Red Decals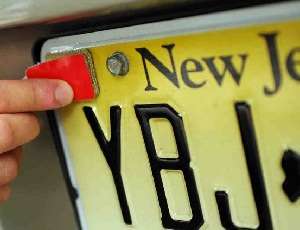 After 16-year-old Kyleigh D'Alessio died in a car crash involving a "provisional" driver, the state of New Jersey tightened its already strict regulation of young drivers, which includes curfews and other restrictions for drivers under the age of 21. The most prominent provision of "Kyleigh's Law," the vehicle used by legislators to tighten restrictions on young drivers, requires youth to display red decals on their license plates. Yesterday, the state Supreme Court heard arguments about the constitutionally of Kyleigh's Law, which an appeals court upheld last year.
The decal requirement came into effect in May 2010 and was met by fierce opposition by young people and their parents. While some youth see the decal requirement as an invasion of privacy, most parents, and, importantly, the legislators and bureaucrats that move to their whims, have focused on the decal turning young people into targets for pedophiles and other potential predators on the open road. So, more of a safety outrage than a rights one (surprised?)
Unfortunately for that line of attack, a state Attorney General's report released last year showed only one incident of a young person targeted because of their decal. Meanwhile in the Supreme Court, Kyleigh Law's opponents seem to have ceded the idea that the police are "entitled" to know a driver is a young person. Via NewsWorks:
"The decals certainly allow the police to see that person is between the ages of 17 to 21, but the point is — and the reason for this appeal is — it allows everyone else to see it too, people who are not entitled," [Attorney Gregg] Trautmann said.
The State of New Jersey, on the other hand, argues that "age group is simply not identifying, it is a general thing that's observable." The Supreme Court is expected to make a ruling later this year. Reason on why dead kids make bad laws.
ReasonTV talks to National Youth Rights Association President Jeffrey Nadel on Fighting Youth Discrimination: