Are Liberals Still Mad at Donald Verrilli for the Health Care Arguments?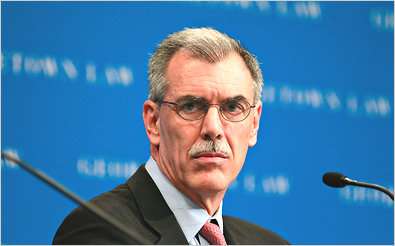 Solicitor General Donald Verrilli did not earn high marks from most liberal commentators in the aftermath of the Supreme Court oral arguments over the Patient Protection and Affordable Care Act. For example, Adam Serwer of the left-leaning magazine Mother Jones complained that Verrilli's "defense of Obamacare…may go down as one of the most spectacular flameouts in the history of the court." Meanwhile, liberal Yale professor Akhil Reed Amar, writing at Slate, penned a condescending open letter to the justices where he explained what Verrilli "should have said."
Are liberals still angry at the solicitor general for dropping the ball? The New York Times' Adam Liptak reports that the answer is yes, at least when it comes to liberal legal academics. Liptak notes that while members of the Supreme Court bar have largely rallied to Verrilli's defense, liberal law professors continue to rage against the solicitor general:
The view from the legal academy is different.
"The solicitor general's performance in the health care case was totally disappointing," said Barry Friedman, a law professor at New York University who filed a brief urging the justices to uphold the law. "His answers were wholly inadequate."
"You really needed gravitas," Professor Friedman said. "But what he conveyed to the court was that the administration was uncomfortable with its own position."
For more on the liberal response to the health care arguemnts, see Peter Suderman's "The Liberal Legal Bubble." For my report on the oral argument over the individual mandate, see here.