Police Brutality Incident Leads to Raid, State of Emergency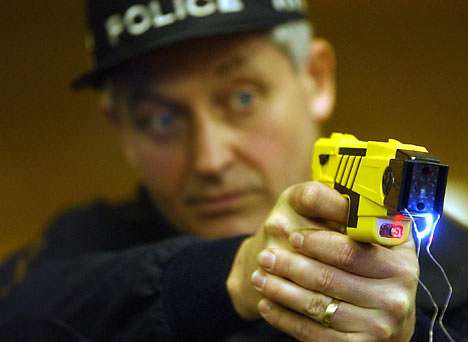 Welcome to Colwyn, Pennsylvania, where cops taser each other for giggles, and the mayor declares a state of emergency after county agents raid the police department in the course of an investigation into the torture of a local teen in a jail cell. Followed, of course, by a fistfight between residents and police at a borough council meeting.
The current trouble revolves around allegations that three Colwyn police officers tased 17-year-old Da'Qwan Jackson while he was handcuffed and locked in a holding cell. A witness to a fight, Jackson was being held on the usual standard-issue disorderly conduct charge after refusing to cooperate with investigating police and crumpling up a citation.
But, what started as an … umm … simple police brutality incident? Well … it then took on charged political overtones that may explain why local cops feel safe in using Tasers and prisoners for entertainment purposes.
Thursday's raucous town meeting was held a day after Mayor Daniel Rutland, a white Republican, suspended a racially mixed group of three officers — including the borough's acting chief — and declared a state of emergency hours after investigators from the Delaware County District Attorney's Office raided the police station.

The officers, Rutland said, were all suspected of participating in or trying to cover up the alleged repeated Tasing of 17-year-old Da'Qwan Jackson while he was purportedly handcuffed and confined in a holding cell April 24. …

The suspended officers are Trevor Parham, who allegedly Tased Jackson; Officer Michael Drucktor, who purportedly witnessed the Tasing and failed to report it; and Wendell Reed, the department's acting chief. The mayor accused Reed of failing to notify proper authorities about the alleged incident.

None of the three would comment Thursday on the Tasing allegation.

Hours after they turned in their badges and guns, Rutland and his political rival, Pray, the council president, seized on the investigation as a cudgel with which to beat each other politically.

Pray had convened an emergency council meeting Wednesday night and had suspended another officer — Lt. Wesley Seitz, who first reported the Tasing allegations to Rutland. Rutland countered by declaring an emergency, reinstating his whistle-blower and promoting him to interim chief.

"They were trying to limit my authority over the Police Department," Rutland said in an interview. "They are lying and putting this town in jeopardy."

Then, at the council's regularly scheduled meeting Thursday, the borough's six-man force was upended again. After repealing the state of emergency, Pray and her allies voted to resuspend Seitz and reinstate Reed.
Did I say entertainment purposes?
A YouTube video shows Colwyn Deputy Chief Wendell Reed Tasering a parking enforcement officer for laughs inside of the borough's tiny police department.

Reed was ousted from the department yesterday for the possible cover up of an incident involving a juvenile who was allegedly Tasered by Cpl. Trevor Parham while handcuffed in a holding cell April 24. Parham was previously suspended by Lt. Wesley Seitz for the incident.

The video, which was uploaded in January, shows the parking enforcement officer on his knees inside of the police station. Reed, who is in the white shirt, hands the prongs of the Taser to the man while a third officer stands behind and watches. All three laugh hysterically before and after Reed Tases the man.
Remember, kids, leave this sort of thing to the professional law-enforcement officers.
Right now, the tasing of Jackson is being turned over to an "independent investigator" to be hired by the borough council, while the mayor separately contacts the (presumably Pennsylvania) Attorney General.
No, really — that's Colwyn, Pennsylvania, not Bolivia.