Municipal Corruption as a Tourist Attraction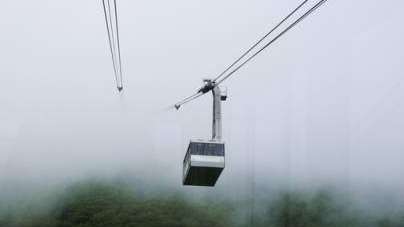 Entreprenuers in economically depressed hotbeds of American municipal corruption (I'm looking at you, Detroit), take note: a Czech artist has launched a tour company built around "trips to sites and monuments highlighting some of the most recent and notorious corruption scandals" in the Czech Republic.
The Czech daily Hospodá?ské noviny(HN) reports that Petr Šourek's new venture "Corrupt Tour" aims to increase public awareness of government-sanctioned graft and add context by taking people to the scenes of the crimes.
"One of the high points, literally, will be the K? 80 million cable car, which has been described by critics as absolutely useless. A rest is offered in a local park where the benches cost an average K? 60,000 each, around 10 times the normal price."
Sourek doesn't intend to stop at showcasing the buildings and public works where tax dollars go to die, he also intends to take the tour to the gilded homes of businessmen who benefit from Prague-style crony capitalism:
A so-called ornithological safari takes in the Prague villas, or "nests" of some of the wheelers and dealers said to be behind some of the most famous scandals. The residences of lobbyist Tomáš Hrdli?ka, lawyer Ivo Rittig, and former CEO of power company ?EZ, Martin Roman, investigated on suspicion of passing orders onto engineering giant Škoda Plze?, his former employer, after taking up his new job.
While Sourek doesn't expect this project to be a runaway commercial success, he hopes to at least break even, and perhaps do well enough to expand the tour to more exotic locations in the Mediterranean, the Carribean and the Alps, where many "shell companies" are located and where vacationing Czech politicians have been known to make some of their most notorious dirty deals.