We Know You Have a Choice of Gropers, and We Appreciate Your Business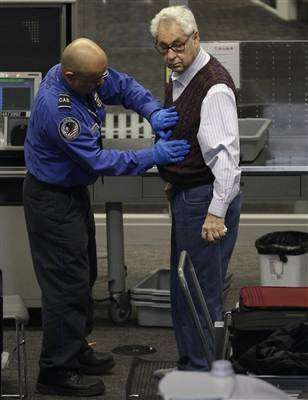 A law that Congress passed last month makes it easier for airports to replace screeners employed by the Transportation Security Administration (TSA) with screeners hired by private contractors. Sixteen of the country's 450 airports, including San Francisco's, already use private contractors for screening, and several others, including Orlando's, are expected to take advantage of the new law, which requires the TSA to allow such arrangements when they save money and do not undermine security. Although a 2008 TSA report claimed private screeners cost more, an analysis by the Government Accountability Office faulted the TSA's methdology. A 2011 report from the House Transportation Committee concluded that "airport passenger screening with private security screeners under federal supervision is dramatically more efficient and less costly than the all-federal screening model."
Any savings accue to the TSA, which covers the cost of paying screeners either way. Furthermore, private screeners are required to enforce the same stupid policies and use the same intrusive, ineffective methods as screeners employed by the federal government. But Larry Dale, president and chief executive of Orlando Sanford International Airport, says hundreds of passenger complaints about TSA screeners helped convince him to try the other option. "We've visited a number of airports who have opted out of the TSA screenings, and no one wants to go back," he told The New York Times. "We think this will be more efficient and customer-friendly for us."