Is Dharun Ravi Guilty of 'Bias Intimidation'?
Today jurors begin their deliberations in the trial of Dharun Ravi, the former Rutgers University student who surreptitiously watched his roommate, Tyler Clementi, kiss another man on the night of September 19, 2010. Clementi jumped off the George Washington Bridge a few days later for reasons that remain unclear. Although Ravi officially is not charged with culpability in Clementi's death, he would not be on trial, facing a possible sentence of 10 years in prison, if Clementi were still alive. Ravi's brief invasion of Clementi's privacy, via a webcam in their dorm room, and his attempt to remotely view a second encounter with the same visitor would almost certainly have been treated as an internal university matter. Clementi had already requested a room change, and Ravi probably would have been disciplined, perhaps by suspension or even expulsion—not by five to 10 years in prison, the prescribed penalty for "bias intimidation" under New Jersey law.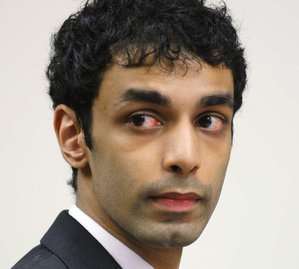 In a column last month, I explained how that law, like other hate crime statutes, effectively punishes people for their opinions—in this case, opinions about gay people. But Middlesex County prosecutors were never able to show that Ravi hated gay people in general or Clementi in particular. It does seem clear that he was uncomfortable about having a gay roommate and that his discomfort was compounded by Clementi's liaisons in their dorm room with an older man who was not a student. Ravi claimed he decided to remotely activate his webcam from a friend's room across the hall because he worried that the visitor (who testified during the trial, identified only as M.B.) might steal his stuff. Friends confirmed that concern but added that Ravi also wanted to see if he had been correct in surmising that Clementi was gay. Ravi nevertheless was taken aback by his glimpse of the makeout session and turned off the camera after a few seconds. His discomfort is apparent in the notorious tweet he sent afterward: "I went into molly's room and turned on my webcam. I saw him making out with a dude. Yay." Ravi's attempt to spy on Clementi and M.B. during a second encounter two days later, prior to which he sent a tweet "daring" his friends to watch, likewise suggests an ambivalent curiosity about gay sex. His actions make him out to be an insensitive blowhard, not a felon. There is essentially no evidence that Ravi spied on Clementi "with a purpose to intimidate" him "because of" his sexual orientation, as the prosecution asserts.
But that is not the end of the matter, because the jury could still convict Ravi of bias intimidation if it concludes that Clementi "reasonably believed" Ravi was trying to intimidate him. The problem for the prosecution, as Ravi's lawyer, Steven Altman, emphasized in his closing argument, is that Clementi did not seem intimidated. As Ian Parker points out in his detailed New Yorker article about the case, Clementi was not hiding his sexual orientation, and "there's little to support the idea that he was mortified by the thought that he'd been outed." And contrary to popular belief, images of Clementi's encounter with M.B. were not recorded and were never available online. Clementi initially dismissed what he called Ravi's "five sec peep" as no big deal. Upon reflection, he was angry, and after he saw Ravi's second tweet he requested a new roommate. But he nevertheless met with M.B. a second time in their dorm room (after unplugging Ravi's computer). As Altman said, these do not seem like the actions of someone who has been intimidated.
Still, it is possible that Clementi thought Ravi was trying to intimidate him. It is questionable whether that belief would have been reasonable, given that Ravi never expressed hostility against Clementi, either to him or to anyone else. In any event, the prosecution had to establish Clementi's state of mind beyond a reasonable doubt. The fact that he repeatedly checked Ravi's Twitter feed to see if there were any more messages about him does not seem like enough.
In the end, it all comes back to Clementi's suicide, which happened just as Ravi was sending him an apologetic text message that Altman shared with the jury:
I've known you were gay and I have no problem with it. In fact one of my closest friends is gay and he and I have a very open relationship. I just suspected you were shy about it which is why I never broached the topic. I don't want your freshman year to be ruined because of a petty misunderstanding, it's adding to my guilt. You have a right to move if you wish but I don't want you to feel pressured to without fully understanding the situation.
Even then, Ravi did not fully own up to what he had done, claiming the spying had been accidental. But there seems to have been some genuine regret mixed in with his fear of getting into trouble (which would later lead him to try covering his electronic tracks by altering or deleting tweets and instant messages, giving rise to charges of "hindering apprehension"). As immature and thoughtless as Ravi's behavior was, the prosecution has not shown his intent was malicious. A prison sentence for Ravi can be justified only by blaming him for Clementi's death—something the government insists it is not doing.