Father of Cop Who Killed Kelly Thomas: "It wasn't a beating; it was a struggle."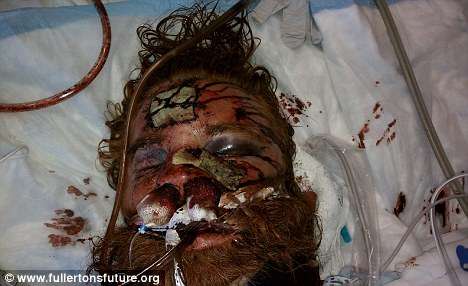 Fullerton homeless man Kelly Thomas was beaten into a coma on July 5, 2011, by five members of the Fullerton Police Department. His family took him off life support days later.
Last September, after a lengthy investigation, Fullerton PD officers Jay Cicinelli and Manuel Ramos were charged with manslaughter and second degree murder (respectively). The two men will stand trial later this month.
On Sunday Cicinelli's stepfather told the Orange County Register that his stepson didn't do anything wrong:
John Huelsman, the stepfather of Cpl. Jay Cicinelli, also said he has reviewed police surveillance video of the deadly incident last summer and, after studying the 30-minute clip more than a dozen times frame by frame, said he believes Cicinelli will be exonerated.

"It wasn't a beating; it was a struggle," said Huelsman, 72, a retired police officer who now works as a private investigator.

Huelsman declined to detail specifics of the video footage but said Cicinelli is not the criminally culpable police officer that Orange County District Attorney Tony Rackauckas portrayed him to be when announcing charges in September.

"There are partial truths, but nothing as animated and descriptive and as forceful (as what Rackauckas portrayed)," said Huelsman, speaking publicly about the incident for the first time in detail.

Cicinelli is accused of kneeing Thomas twice in the head, using a Taser four times on him, and using the front end of his Taser to hit Thomas in the head and facial area eight times when he already was pinned to the ground by multiple officers.

"We cannot see what (Rackauckas) sees on the video," Huelsman said.
Here's the order of events that Orange County Dist. Atty. Tony Rackauckas recounted at a September press conference:
Ramos took this contact from lawful use of detention to unlawful use of excessive force when he raised his fist. Ramos then grabbed Kelly Thomas by his arm. Thomas started taking steps away from Ramos. Then a baton came out. Kelly Thomas put his hands up, palms out, in a defensive positions. Palms open. Ramos yelled at Kelly Thomas, "Get on the ground." The other officer came running out from behind his car to assist with the arrest that officer Ramos was doing. The evidence does not indicate that Ramos' partner had any involvement in the exchange, or that he had any knowledge that Officer Ramos was engaged in unlawful police conduct. The physical altercation began as Officer Ramos swung his baton and chased Kelly Thomas. He punched Thomas in the ribs several times on the ground. He put his hand on Kelly Thomas' neck for leverage. He held him for other officers to use their force on Kelly Thomas. Wolf (Ramo's partner) kneed him and tackled him. Cicinelli arrived at the scene at 8:45 p.m. and kneed Kelly Thomas twice in the head. He used his taser four times on Thomas.

Three of the times Cicinelli taser Kelly, he held the charge five seconds. The fourth time he tased him, he discharged darts, and shocked Thomas for approx 12 seconds. Cicinelli used the front of the taser to hit Kelly Thomas in the face eight times while Kelly Thomas was pinned to the ground with the weight of the other officers' bodies. There was no audible response from Kelly Thomas at this time. When Kelly Thomas didn't scream, it should have indicated to Cicinelli that Thomas was down.

The evidence does not show that responding officers actually beating Thomas.

Thomas' numerous please of "I'm sorry," "I can't breathe," "Help," "Dad," were all to no avail. Kelly Thomas not responding when the blows to his face occurred? No help. The growing pool of blood? No help.
In all fairness (something Fullerton cops denied Thomas by murdering him), it wasn't Cicinelli's handiwork on Thomas's face that killed him, or even the prolonged electrocution, but "mechanical suppression of the thorax."
But I'd still like to hear Huelsman's case made in court: that a "struggle" and a "beating" are mutually exclusive events; that every suspect who fears and fights for his life after a cop threatens to "fuck him up" deserves to be worked over to death; and that the only way Jay Cicinelli could possibly be in the wrong is if Thomas had just lied there, mute and still. I'm sure a jury would just eat that up. (And yes, I realize a jury very well could eat that up. Here's hoping they don't.)
From Reason.tv: "Cops Vs. Cameras: The Killing of Kelly Thomas & The Power of New Media"