Rep. John Conyers Turns a Blind Eye to Eminent Domain Abuse
As noted in today's morning links, yesterday afternoon the House of Representatives approved H.R. 1443, also known as the Property Rights Protection Act, which is designed to forbid the sort of eminent domain abuse that the Supreme Court let slide in its notorious 2005 ruling in Kelo v. City of New London, where it upheld the use of eminent domain to transfer property from one private owner to another for the sake of economic development. (Here's how well that worked out.)
As The Hill reports, H.R. 1443 is one of those bills with truly bipartisan support:
In addition to chief sponsor Rep. Jim Sensenbrenner (R-Wis.), House Judiciary Committee Chairman Lamar Smith (R-Texas) spoke in favor of the bill, as did two Democrats, Reps. Maxine Waters (D-Calif.) and Sheila Jackson Lee (D-Texas).
Waters co-sponsored the bill with Sensenbrenner, and both members noted that this rare alliance alone should prompt members to support the bill.

"This is a Sensenbrenner-Waters bill," Sensenbrenner said. "You will never see another Sensenbrenner-Waters bill, and that is probably one of the best reasons to vote in favor of it."

Waters said her support for the bill comes in part from the idea that poor people and minorities stand the most to lose from the Supreme Court's ruling.

"The government now has license to transfer property from those with fewer resources to those with more," she said. "The founders cannot have intended this perverse result."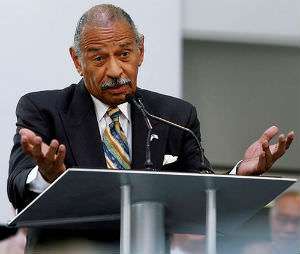 That history lesson did not persuade eminent domain enthusiast Rep. John Conyers (D-Mich.), however, who refuses to see what the fuss is all about, as The Hill reports:
Judiciary Committee Ranking Member John Conyers (D-Mich.) was the only member to speak against the bill. He argued that it has been seven years since the Kelo decision, and that many states have adjusted their own eminent domain laws in reaction.

"Congress should not now come charging in after seven years of work and presume to sit as a national zoning board, advocating to our national government the right to decide which states have gotten the balance right, and deciding which project are or are not appropriate," he said.
I hope Conyers remembers to be so humble about Congress' lawmaking powers the next time he casts a vote.
For a sense of the damage that Kelo-style takings have done in just one state, check out Reason's coverage of New York's eminent domain land grabs on behalf of Columbia University, an elite private institution, and real estate tycoon Bruce Ratner, the wealthy co-owner of a professional basketball team. It doesn't take a ranking member of the Judiciary Committee to see why those two uses of public power for private gain were entirely inappropriate—and unconstitutional.