How Dharun Ravi Could Get 10 Years for Expressing Unapproved Views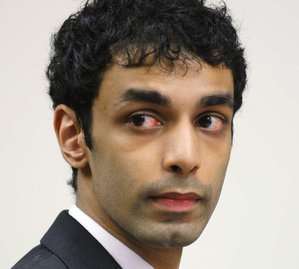 Dharun Ravi is on trial in New Jersey for spying on his college roommate. Although the Newark Star-Ledger says "Ravi is not charged in connection with [Tyler] Clementi's death," it is doubtful that he would have been charged at all if Clementi had not jumped off the George Washington Bridge on September 22, 2010. That was three days after Ravi, monitoring their Rutgers University dorm room via a webcam, watched Clementi kiss a male visitor and two days after Ravi tweeted that he "saw my roommate making out with a dude." If Clementi had not killed himself (for reasons that remain unclear), Ravi surely would not be facing the prospect of 10 years in prison for "bias intimidation."
But now that he is, his fate may hinge on his opinions about homosexuality. "He's not homophobic," Ravi's attorney, Steven D. Altman, insisted during his opening statement on Friday. "He's not antigay." When the prosecution called four Rutgers students to testify that "his roommate's sex life had been very much on [Ravi's] mind and that the spying had relied on advance planning," The New York Times reports, "Mr. Altman elicited from those same witnesses testimony that Mr. Ravi had shown no hatred of gays or of Mr. Clementi." It is safe to say that if Ravi had told his friends "man, I hate queers," or had simply endorsed the biblical view of homosexuality, those sentiments would have been used against him. This is how "hate crime" statutes, which enhance penalties for existing offenses based on bigoted motives, end up punishing people for their beliefs.
Ravi (who, like Clementi, was an 18-year-old freshman at the time) has claimed he activated the webcam on his computer that night because he did not trust the older man visiting Clementi and wanted to keep an eye on him. Altman emphasized that Ravi and a friend, Molly Wei, caught just a few seconds of Clementi kissing the other man. Ravi also said he was joking when he tweeted that he planned to watch the two again two nights later. But even if we discount Ravi's mitigating explanations, he is guilty, at worst, of being an immature jerk—not the sort of thing people usually got to prison for. Ravi's comments to friends suggest that if he was picking on his roommate, it was probably because of Clementi's social awkwardness rather than his sexual orientation. Is the second motivation 10 years worse than the first?
More on hate crime laws here. For an in-depth discussion, see my 1992 Reason article "What's Hate Got to Do With It?" (PDF).