Drug Warriors Encourage Mexican Meth Makers to Sharpen Their Chemistry Skills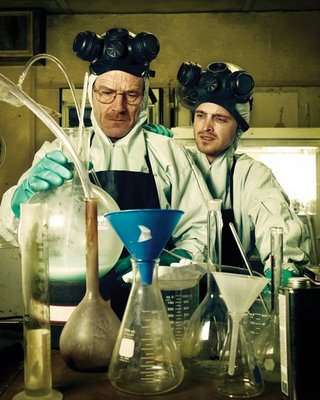 Seven years ago, before Congress tried to Combat Meth by imposing nationwide limits on sales of cold and allergy remedies containing pseudoephedrine, I noted that you don't need pseudoephedrine to make meth. Now The Texas Tribune reports that the crackdown on pseudoephedrine, which has helped Mexican cartels expand their share of the meth market, is encouraging them to use production methods based on other precursors:
"The Mexicans have moved to an old recipe that existed in the '70s and '80s that is called P2P [for phenyl-2-propanone]," said Jane C. Maxwell, a senior research scientist at the Addiction Research Institute at the Center for Social Work Research at the University of Texas at Austin.

"It uses precursors that have been banned in the U.S. since the 1980s, but the Mexicans have taken up making it," Maxwell said of ingredients — including a substance called propanone — used to make the drug. "They are making it in mass quantities, and they are damn good chemists."

The old recipe became popular again after Mexico banned the sale of ephedrine and pseudoephedrine, the common ingredients that had been used to make the narcotic. But Mexicans have become increasingly adept at using the old recipe for the drug, which Maxwell likened to a weed in a garden that won't go away.

In the second quarter of 2010, only 50 percent of Drug Enforcement Administration lab samples of seizures were from the P2P process. But that increased to 85 percent during the third quarter of 2011.

The prevalence of meth production in Mexico was driven home this month when authorities reportedly seized 15 tons of meth on the outskirts of the city of Guadalajara, a known stronghold of Sinaloa cartel leader Joaquin "El Chapo" Guzman.

"This is a cyclical drug. If you pass a precursor bill it goes down, and then it comes back up again," Maxwell said. "The lesson on this is that we can't congratulate ourselves for doing away with pseudoephedrine. People keep looking for other recipes."
The utterly predictable adaptability of the black market is, of course, one of the major arguments against prohibition. More narrowly, it shows the pointlessness of the cost imposed on American consumers by restricting access to a cheap, safe, and effective decongestant. Even if you accept the goals of the war on drugs as legitimate, treating cold and allergy sufferers like potential criminals has not advanced them at all and may in fact have increased the hazards associated with domestic meth production. The obvious solution: compound this gratuitous burden by requiring prescriptions for pseudoephedrine. 
I noted the record 15-ton meth seizure two weeks ago.
[Thanks to Vic McDonald for the tip.]