Simpsons Figurines: Banned in Iran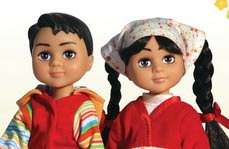 Iranian kids can't watch The Simpsons; the government has been jamming satellite transmission of the cartoon sitcom for decades. But just to be sure that Iranians are protected from Western moral contamination, Simpsons merchandise is now being banned as well.
The anti-Simpsons edict comes from Mohammad Hossein Farjoo, Secretary for Policy-Making of the Institute for the Intellectual Development of Children and Young Adults (IIDCYA), an organization founded by the deposed Shah's wife in 1961 with the goal of shaping the cultural and intellectual landscape of Iran. The ban may overstep his mandate. Technically, the Iranian Department of Commerce, which actually is a government agency, has dibs on cultivating the selection of ayatollah-approved goods. Such goods include the traditional Iranian boy and girl pair Dara and Sara (pictured right), similar to Raggedy Ann and Raggedy Andy, but without the raggedyness. Reuters reports:
A range of officially approved dolls launched in 2002 to counter demand for Barbie have not proven successful, merchants told Reuters.

The dolls…arrived in shops wearing a variety of traditional dress, with Sara fully respecting the rule that all women in Iran must obey in public, of covering their hair and wearing loose-fitting clothes.

"My daughter prefers Barbies [which have been off the market since January]. She says Sara and Dara are ugly and fat," said Farnaz, a 38-year-old mother.
Supreme Leader Ayatollah Khamenei has long been obsessed with what he sees as a campaign of cultural infiltration by the West. That's probably why he's been increasing censorship and imprisonment of Iranian journalists, activists, and computer programmers lately.
He's leaving the cutesy stuff to the private organizations, though: Last month, I reported on the intention of a private Iranian company to produce toy replicas of the American spy plane RQ-170 Sentinel which was captured by Iranian military forces last November. (I also erroneously identified the makers of the toy as Iranian officials, thereby perpetuating the crude misconception that the often disparate goals of a government and those of the civilians to which it lays claim are one in the same. Bad Julie.)
Thus the warning about the moral pitfalls hanging out with "the Simpsons, a famously self-centred and irreligious bunch" in the form of plastic figurines. The IIDCYA, an institution older than the Islamic Revolution itself, has enough influence over these matters that Iranian children may indeed have to settle for fat, ugly, conservatively dressed toys.