Ron Paul Places Second at Chaotic Henderson Caucus
Henderson, Nev. – When people gathered at Green Valley High School to participate in the 2012 Republican caucus, it looked like organized chaos. Lines of people were snaking from three different directions to a series of small tables where caucus participants could find out where to go. Confused voters cut lines and interrupted caucus workers trying to help people find their own caucus rooms. Peppy cheers from a cheerleading competition across the quad added to the noise.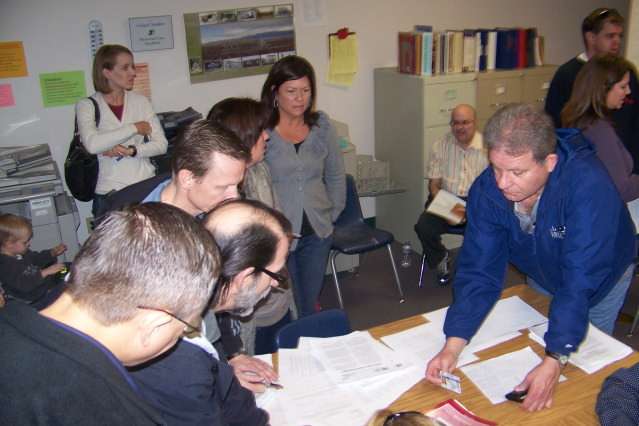 At the caucus for precinct 7683 there was momentary confusion when the caucus chairman did not appear at the start. Eventually the group elected a chair, Valerie Blake, 47, from among those present. From there the group had instructions on a sheet that they had to follow.
Check voter eligibility
Select delegates to the state convention
Speeches from the candidates supporters
Open floor discussion
Vote for president
After the instructions were given there were occasional delays due to paperwork issues but the caucus moved quickly without any major problems. Six delegates were elected to the state convention of which two were Ron Paul supporters.
Karen Manning, 52, one of the delegates elected to go the state convention, spoke for Paul at the caucus.
"It's all about small government and staying within the confines of the constitution. If it's not outlined in the Constitution, government should not be doing it," she said, encouraging caucus goers to vote for Paul.
Mitt Romney won this precinct with 23 votes, followed by Paul with nine. Rick Santorum and Newt Gingrich both had five.
Manning was disappointed, but she expected Paul to finish at least second.
"I wanted more. We were really organized in this precinct but there were just more broad based Romney supporters here. Plus, he's been given more media support and a larger platform nationally," she said.
The other Paul delegate, Miles Planette, 21, said that people should vote for Paul because he is the only candidate who wants to stop the welfare state at home and abroad. "We talk about curtailing spending at home but we can't forget so much of our budget is devoted to things overseas," he said.
One Romney supporter said he liked Paul but did not like his libertarian approach to social issues. "Ron Paul's policies will give people access to drugs so they can destroy themselves," said David, the Romney supporter.
Planette countered, "I don't do drugs myself and would not recommend them but it's not of my business or the government's business what my neighbor does in the privacy of his own home."
"As long as he isn't hurting anyone, what does it matter?" said Planette.
The discussion then shifted from the War on Drugs to electability and beating President Obama.