The Obama Administration Halts 1600 Deportations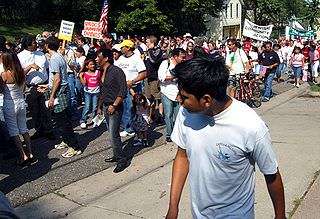 Back in August, the Obama administration said that officials can pick and choose when it comes to prioritizing deportations of illegal immigrant. Those who should be bothered first were not those with strong ties to communities, those with family in the U.S., or those who have not committed violent or property-related crimes. Basically there was a lurching towards a logical policy, at least in theory and in memo-form.
This meant that around 300,000 illegal immigrants currently in the U.S. had the opportunity to maybe stay and work. But that is of course easier said than done, the bureaucracies move so slow, and so there were still plenty of horror stories to sustain any open-border advocate.
And really, the narrative that Obama is some kind of crazy leftist who welcomes all illegal immigrant is fundamentally absurd when you consider that his administration has had more people deported in three years than George Bush had in eight. (And less we forget, the GOP debates were once a haven of surreal tolerance re illegal immigration.)
But according to Bloomberg, maybe the Department of Homeland Security is getting somewhere, or at least giving it a try:
In a pilot program begun last month to speed reviews, 30 federal prosecutors in Denver and Baltimore reviewed 11,682 cases and recommended closing 1,667 of them, said the official, who wasn't authorized to speak publicly about the initiative. The recommendations are being given to judges handling the cases of the detainees.
Federal lawyers are undertaking a slower review of an additional 280,000 deportation cases in the rest of the country, the official said.
Critics of the review and the discretion policy have said President Barack Obama is circumventing Congress to change immigration policies.
In a statement Thursday, House Judiciary Committee Chairman Lamar Smith again called the policies "backdoor amnesty."
"The results from the pilot programs show that President Obama's backdoor amnesty only works for illegal immigrants, not Americans," Smith said. "Nearly 2,000 illegal and criminal immigrants in Denver and Baltimore have been granted backdoor amnesty that allows them to remain in the U.S. and apply for work authorization. And this administration routinely grants work authorization to 90 percent of illegal immigrants when their cases have been administratively closed."
The DHS official said that only illegal immigrants who would have been eligible to apply for a work permit before their deportation case was suspended will now be eligible. The official did not say how many people may be eligible.
"If you can apply for a work permit under existing law, you can apply now," the official said, adding that closure of the deportation case will not automatically qualify someone for a work permit.
Reason on immigration.