Melbourne Police Kick, Punch, and Taser a 66-Year-Old Man With Dementia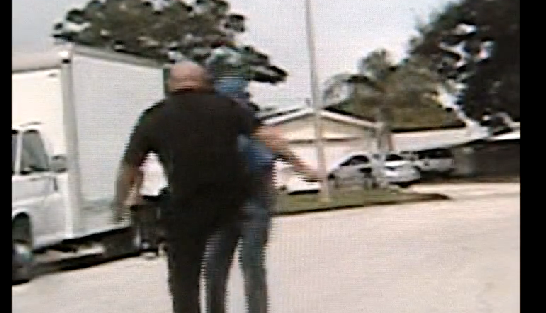 A 66-year-old Melbourne man with dementia spent a month in the hospital after he was violently arrested in October 2011 by officers from the Melbourne Police Department in Melbourne, Florida. The officers who arrested Albert Flowers charged him with battery on a police officer, but a dash-cam video obtained this weekend by WFTV Channel 9 News in Central Florida shows that Flowers did not assault either officer before being kicked in the stomach, punched repeatedly, choked, and Tasered.
According to WFTV's report, Officer Derek Middendorf of the Melbourne Police Department was responding to a report that Flowers threatened another man with a knife. Middendorf's arrest report claims that "Flowers walked towards him in an aggressive manner" and that he "refused to stop at a safe distance." This record of the arrest held water in part because Middendorf turned off his dash cam before getting out of his cruiser. But the Melbourne Police Department was since able to retrieve the video from the dash cam hard drive. And that video tells a different story.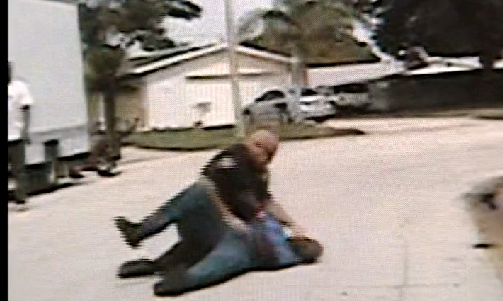 In the raw video (it's not embeddable, so you'll have to click through), Flowers walks at a leisurely pace toward Middendorf. His hands are down at his side as he approaches Middendorf in the street, and he does not appear to be carrying anything. When Flowers is a few feet from Middendorf, the officer kicks him in the stomach, causing Flowers to fall down. Middendorf then jumps on top of Flowers, and punches him repeatedly in the head and chest. Flowers appears to raise his hands to shield himself, but does not appear to fight back. After Middendorf forces Flowers onto his chest, he lies on top of him and tries to gain control of Flowers' right hand. When he fails to do so, Middendorf punches Flowers first in the face, then the ribs, and puts Flowers in a chokehold, at which point another officer approaches the two men, bends down, and Tasers Flowers in the face.
The video shows Flowers' nephew, Garrick, approaching the officers to explain that his uncle has dementia and recently underwent a triple bypass. (Garrick told WFTV that he was worried the officers were "killing him.")
Moments later, two more officers show up to help Middendorf restrain Flowers. Paramedics are then called to treat Flowers, who is seen in the video sitting on the ground without restraints.
Middendorf, who was named Melbourne PD's officer of the year in 2008, is currently on leave due to an injury unrelated to his arrest of Flowers. A hearing will be held on Wednesday.
Watch the the video of Flowers' arrest here, courtesy of WFTV.